Nathan Cleverly expects title fight of his life against Kovalev
Last updated on .From the section Wales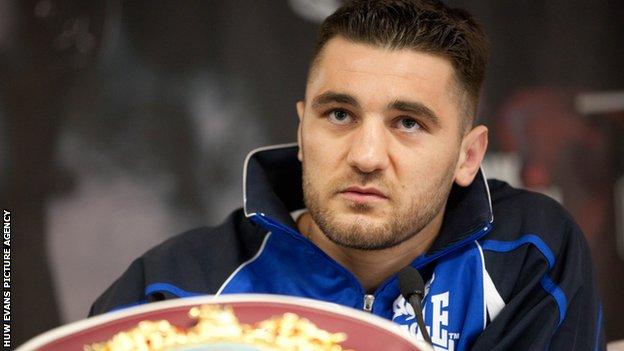 World champion Nathan Cleverly says he is ready for the "biggest" and "hardest" fight of his life against Russian Sergey Kovalev.
Cleverly admits he is under no illusions of the task facing him against the undefeated Russian.
"This is the biggest fight of my life and potentially the hardest fight of my life," said Cleverly.
"In every fight there is always a risk of losing the belt and that is the fear factor. You don't want to give it up and that is what motivates you in training.
"I do fear losing this belt and I cannot let that happen. I have to give it everything to remain world champion."
This will be Cleverly's sixth defence of his title since he won it back in December 2010, he retained the WBO title when he beat Robert Krasniqi in April.
Cleverly knows a victory over the American-based Kovalev would enhance his chances of a big-name fight with the likes of IBF world champion Bernard Hopkins and WBA champion Beibut Shumenov.
Hopkins, 48, defends his title against Karo Murat in October.
Cleverly and Kovalev are both undefeated, with the 30-year-old from Chelyabinsk - who now fights out of Florida - winning 21 professional bouts.
"This fight excites me," said Cleverly, ahead of the fight at Cardiff's Motorpoint Arena.
"He has a great knockout record of 18 Ko's inside three rounds and he is going to try and do that to me and rip this world title belt off me.
"I cannot afford to let him do that. He is a massive puncher with both hands and he is very accurate.
"He is the real deal this guy, but I believe I am a level above. There are places I want to go in this sport and I have to beat this guy and I am going to do that."
Meanwhile, Kovalev's trainer, Jonathan Davies Jackson, claims all the pressure is on Cleverly to come out fighting if he wants to secure his dream of a big-name fight in America.
"Nathan has to gamble if he wants to win this fight," said Jackson.
"He cannot go out and fight safely because if he fights safely, he has lost American TV and the American fans. If he really wants it, he has to gamble and stand in front of Sergey and fight this man.
"He runs, he has lost the American audience. If he wins it nice and easy, in the way he does usually, he has lost American TV and he can kiss it goodbye."