Nathan Cleverly ready to follow instincts over retirement
Last updated on .From the section Wales
Former boxing champion Nathan Cleverly says it will "instinctively" come to him or carry on.
The 26-year-old Welshman lost his suffering the first loss of his 27-fight career to the Russian.
Cleverly says he would consider moving to America to train if he carries on.
"Instinctively I'll know... I could say to myself, 'get back, that's where you belong, give it another blast, become world champions again'," Cleverly said.
"Or I could say, 'listen, I've not got the desire anymore'. If I've not got the desire for boxing, it's the last sport I want to be hanging around, scraping around in.
"I've got that decision to make and I'll know instinctively in a couple of months' time, it'll come to me and I'll go from there.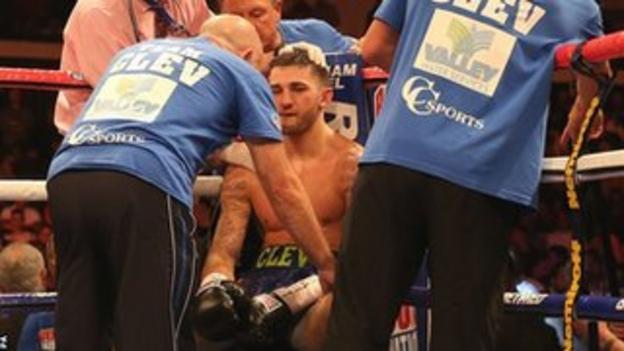 "I've always been planning for life after boxing, there's more to life than boxing. I won't let boxing rule my life."
If Cleverly does decide to return to the ring, then his future could lie in California under the tutelage of legendary trainer Freddie Roach.
The Cefn Fforest fighter trained at Roach's Wild Card gym in Hollywood ahead of his WBO title defence against Shawn Hawk in Los Angeles on Saturday.
Roach said at the time that he would who has been trained by his father, Vince, who took over sole training responsibilities in September 2008 when Cleverly left Enzo Calzaghe's famous Newbridge stable.
"Things like that can freshen you up as well. Mentally, physically it keeps you invigorated, it keeps you challenged and a change is as good as a rest sometimes," said Cleverly, speaking on BBC Wales' Radio Wales Sport programme.
"It's something that can motivate you and a change of scenery, voice, a change of location, they can all make a real difference - mainly to a sportsman's mental attitude.
"And that's a massive percentage of boxing, mentally getting it right.
"My dad has been great with me over the past five years or so but even he knows, he'll tell me when the time is right to maybe move on and have a change.
"He's there for me, he's looking out for my best interests. He's done a great job with me and he'll advise. I know deep down in my heart what is best for me and where I want to go, and the ultimate decision lies with me."
The fight against Kovalev in Cardiff was shown live on American television and was meant to provide an important stepping stone to a unification title fight for Cleverly, possibly against boxing great Bernard Hopkins, the IBF champion, or WBA champion Beibut Shumenov.
Instead the Welshman, making his sixth title defence, was knocked down for the first time in his career and suffered his first defeat in the professional ranks.
Cleverly went down under an onslaught from Kovalev in the third round and the referee stepped in to stop the fight 29 seconds into the fourth.
His first defeat left Cleverly shaken and facing "a couple of months" of soul-searching before making a decision on his future.
"I've always said one loss in boxing and I'm done because you go through different chapters in life," added Cleverly, who holds a mathematics degree.
"When I was in university studying for my degree in Cardiff, that was a great chapter of my life.
"Second chapter was Commonwealth, British, European, world champion, living the dream for five years as a world champion in the sport of boxing - which is my dream.
"That was a special moment in my life and you could say that was another chapter.
"So it comes to the situation now that I'll go away, I'll live a normal life, I'll have a good holiday, have a few drinks, eat a bit of junk food, socialise with friends and family, and then let my inclinations guide me."