Nathan Cleverly: Trainer Freddie Roach could help him - Amir Khan
Last updated on .From the section Wales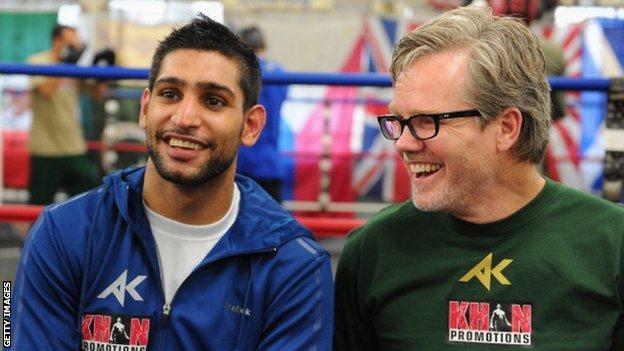 Former world champion Amir Khan believes Freddie Roach is the ideal man to help Nathan Cleverly.
The Welshman, 26, has been offered a spot with Los Angeles based Roach, who was at Khan's side for four years.
"Freddie's a great trainer, very good and knows what he's talking about," Khan said.
"He knows exactly how to build a fighter and how to put that confidence back in the fighter."
Cleverly, trained by father Vince, was knocked down for the first time in his career and suffered his first professional defeat against Kovalev.
The Cefn Fforest fighter said he would consider moving to the United States to train if he decided to continue his boxing career.
Olympic silver medallist Khan had been trained by Oliver Harrison for the first 17 fights of his professional career.
After being knocked out in the first round of his WBO intercontinental lightweight title defence against Breidis Prescott in 2008, the Bolton fighter linked up with Roach.
During their time together, Khan won the WBA and IBF light welterweight and WBA Super World light welterweight titles.
And Khan believes Cleverly would benefit from relocating to the United States to join up with Roach's stable.
"If you look at me when I got beaten by Prescott in my first defeat, Freddie brought me back and I became a two-time world champion," Khan told BBC Radio Wales Sport.
"I think that will be amazing for him [Cleverly] if he goes to America.
"It will be a big change for him in his career but I really believe it will make a big difference and he'll come back a different fighter.
"Nathan's got a lot of talent so I think he needs to move away and focus on himself now."