Crusaders beat Welsh rivals Scorpions 35-22 to win promotion
Last updated on .From the section Wales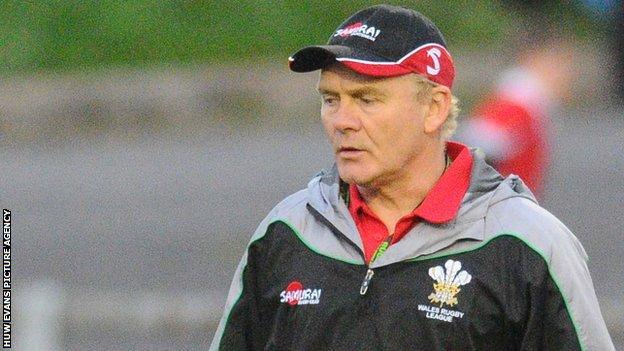 North Wales Crusaders beat South Wales Scorpions 35-22 in Wrexham to win promotion to Rugby League's Championship.
Defeat against 12-man Crusaders meant the Scorpions were denied a place in the play-offs.
Owain Griffiths, the son of Crusaders head coach Clive, was among the winning side's try-scorers.
The visitors led 10-4 after Jamie Dallimore's sending off for a spear tackle, but the hosts fought back.
Leon Brennan opened the try-scoring for the home side at the Racecourse and Joe Burke replied with Courtney Davies converting to take Neath-base Scorpions into the lead.
Dallimore was then sent off for a spear tackle that led to his victim, Shae Lyon-Fraser, being carried off on a stretcher.
Dalton Grant extended the Scorpions' lead with his try and Rob Messam struck back for the hosts.
Griffiths' side led at the break after Stephen Bannister went over.
Massam struck again and Billy Sheen replied before the Crusaders' Andy Moulslade went over for Tommy Johnson to convert.
Scorpions wing Dalton Grant raced the length of the field and Matthew Wilcox's conversion levelled the scores at 22-22.
But the Crusaders worked Owain Griffiths and Johnson converted.
Moulslade added a drop goal before Dave McConnell's touchdown ensured the Crusaders' place in rugby league's second tier for 2014.