Jade Jones: Olympic taekwondo champion suffers back injury
Last updated on .From the section Wales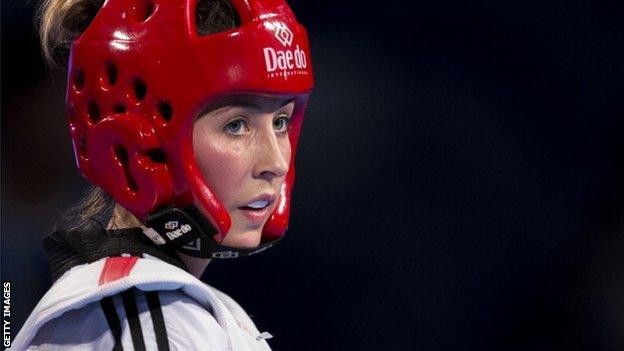 Olympic taekwondo champion Jade Jones says she will be sidelined with a back injury for a couple of months but hopes to be fit by December.
The 20-year-old from Flint has targeted a return to action for the new global Grand Prix series in Manchester in December.
Jones won Great Britain's first Olympic taekwondo gold medal at London 2012.
"I am injured at the moment, so I'm going to be out for a couple of months," said Jones.
"I have a stress reaction in my back and it's started to give me a pain down my leg."
The world's leading taekwondo fighters now compete in a new global Grand Prix series, divided into four different events, ahead of a Grand Final in 2014.
Results from the events in eight weight categories will ultimately help towards qualification for the 2016 Olympics in Rio de Janiero.
Jones said she was "devastated" to miss out on the medals at the recent World Championships in Mexico in July.
She lost by a single point in the quarter-finals, but has revealed the injury had hampered her during the competition.
"It started before the Worlds but I obviously had to train with it and just get through the sessions really," said Jones "Now is a good time to get it fixed.
"Hopefully, I will be back for the Grand Prix in December because that's a big competition for me. It's the start of the ranking points for Rio."