Swansea and Stirling's elite swimming centres under threat
By Nick Hope
BBC Olympic sports reporter
Last updated on .From the section Wales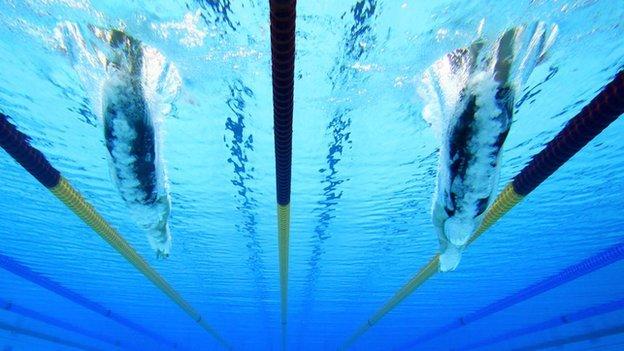 British Swimming has given the strongest indication yet that centres of excellence in Swansea and Stirling could lose their International Training Centre (ITC) status.
The sport suffered a £4,000,000 funding cut after winning just three of their five targeted medals at London 2012.
The centres at Loughborough and Bath are believed to be safe.
"What we'll see is a different type of investment," said British Swimming performance director Chris Spice.
"We are certain that Loughborough and Bath will remain the same.
"What we'll absolutely be doing is still investing [in Wales and Scotland]. It's just at what level and it may not be in one centre."
British Swimming has been investigating ways of reducing operating costs since suffering the funding cut.
The sport had operated five ITCs in the build up to London 2012, but the one at Stockport was axed in February.
At the same time, Stirling and Swansea - where GB swimmers Jaz Carlin, Jemma Lowe and Georgia Davies are based - were given temporary reprieves.
Talks with representatives from both threatened centres are on-going, but those from Swansea will meet with British Swimming officials for a crucial meeting about their situation next week.
Swansea has already lost one of its star attractions with multiple Paralympic medal-winning swimmer Ellie Simmonds deciding in July to relocate to Loughborough.
Scottish Swimming says it is working hard with British Swimming and is in constant dialogue with their counterparts over the future of the centre in Stirling.
It stresses that, while the review is underway , preparations for Scottish swimmers using the facility at Stirling will not be affected and it is business as usual.
It also stresses that there are new facilities across the country, in Aberdeen and the recently refurbished Tollcross in Glasgow, so Stirling is not the only place for Scottish swimmers to hone their talents.
A Scottish Government spokeswoman said: "We will seek urgent discussions with British Swimming and UK Sport about these proposals and make clear our concern about any cut in funding to the Stirling centre.
"We also want to reassure athletes that the Scottish Government through the Sportscotland Institute of Sport will ensure the continuation of high-performance training facilities and performance programmes for our swimmers here in Scotland."