Georgia Davies hopeful over elite swim funding in Swansea
Last updated on .From the section Wales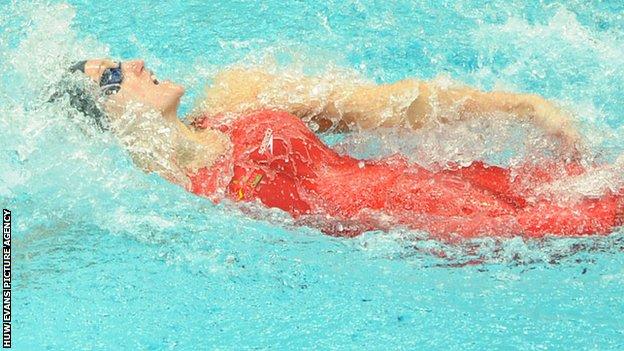 Swansea-based swimmer Georgia Davies hopes preparations for next year's Commonwealth Games will not be disrupted if the city's pool loses its elite funding.
Centres at Swansea and Stirling are under review following a £4m cut in funding British Swimming.
But Commonwealth Games bronze medallist Davies, 22, remains optimistic.
"I don't think that's going to affect any of the swimmers training there," she told BBC Radio Wales Sport.
"It doesn't really matter too much where the money comes from.
"It might have been coming from British Swimming before, but hopefully the Sports Council [Sport Wales] or Welsh swimming [Swim Wales] will be able to put money in towards it so that things can stay close to how they have been."
As well as Davies, Swansea is the base for fellow British team members Jaz Carlin, Jemma Lowe and Ieuan Lloyd.
Swansea is currently one of four International Training Centres (ITC) in Britain which receive extra funding from British Swimming to help with the preparation of elite athletes.
The others are at Stirling, Loughborough and Bath, though British Swimming's performance director Chris Spice has said the centres in England are unlikely to be affected by the cuts.
A fifth centre at Stockport was axed in February.
Sport Wales and Swim Wales both declined to comment, but Davies says she expects them to try to make up any shortfall if funding is cut at Swansea.
"I've spoken with Swim Wales and as it's Commonwealth Games year they're really keen to make sure that everything's as good as it can possibly be for us," said Davies, whose bronze came in the 50m backstroke in the 2010 Games in Delhi.
"So I think Welsh swimming are going to do their best to make sure the facilities and staff are perfect for us.
"There hasn't always been that much money in the sport and people have still managed to get success, so I don't think money is the key to us having success anyway."
The cuts are the result of the British team's failure to meet its medal target at the London 2012 Olympics.
Talks with representatives from both threatened centres are ongoing, but those from Swansea will meet with British Swimming officials for a crucial meeting about their situation next week.