Triathlon: Non Stanford ready for London showdown
Last updated on .From the section Wales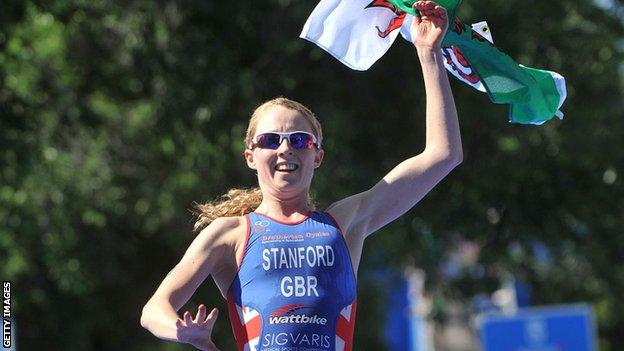 Non Stanford finds it difficult to believe she could win the ITU World Triathlon title at Hyde Park on Saturday.
The Swansea-born athlete is lying third in the title standings, one place ahead of Oldbury's Jodie Stimpson.
"Twelve months ago I was under-23 World champion and just a year later to be contending for the senior world title is blowing my mind," said Stanford.
Gwen Jorgensen of the USA leads the rankings ahead of Anne Haug of Germany.
Only 13 points separate the top three places, with Stimpson 165 points behind Stanford in fourth place.
But with 1,200 points on offer for the winner of the Grand Final a big change is not inconceivable.
Stanford will be striving to emulate her Welsh compatriots Helen Jenkins, who took the world title in 2011, and Leanda Cave, who was world champion in 2002.
The transition made by Stanford from under-23 to senior level has been meteoric. She has been on the podium four times in the 2003 series, winning her first senior ITU event in Madrid on 1 June.
"I never dreamed that I would be in this position," she said.
"I think I've surprised everyone including myself as to how far I've come.
"Last year I definitely wasn't in a position where I could have been on the Olympic team, but 12 months later I'm just really grateful to be there on the other side of the barrier competing and all my friends and family are going to be there - it's going to be fantastic.
"I just feel really fortunate to be within a shot of becoming world champion - not many people can say that they're in that position so instead of a burden I see it as an opportunity."
Jorgensen will start the race in Hyde Park as favourite having been the most consistent competitor over the series.
Stanford, who suffered a broken arm after a fall in the team race in Hamburg, has been in a training camp with the Brownlee brothers, Alistair and Jonny, in Yorkshire and hopes that will give her an extra edge in London.
The Brownlee brothers lead the men's standings, with Alistair on 3,140 points after his win in Stockholm, Jonny on 3,085 and Spain's Javier Gomez on 3,020 - ensuring the men's race will provide an equally thrilling finale in London.
"I'm really fortunate to be in this set-up," Stanford enthused.
"My training partners are the best triathletes in the world, so you can't really ask for better than that and the support and the back up that we have here is second to none.
"There's only 13 points that separate the first three girls and I think it's 1,200 points for the win, so whoever crosses the line in first pretty much will win the title out of us three, unless we all have terrible races and another three people do the job.
"But at the minute it looks like it'll be one of the three of us and that's quite exciting really."