Non Stanford eyes Commonwealth Games triathlon-10,000m double
Last updated on .From the section Wales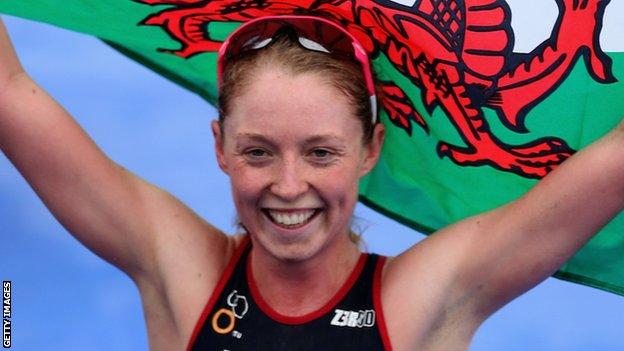 Wales' Non Stanford has not ruled out attempting a triathlon-10,000m double at the 2014 Commonwealth Games in Glasgow.
Welsh Athletics says she would need to run one 'A' standard 10,000m of under 33 minutes to qualify for the event.
"I haven't completely ruled it out. It would be really special to try to do the double," she said.
"I've run the qualifying time on the road, but I would have to do it on the track.
"It would be tough, but I would have to sit down with my coaches and discuss how plausible it would be."
Stanford ran a 10,000m in 32 minutes 39 seconds in March 2013, but the qualification period for the Commonwealth Games did not start until 1 April.
Swansea-born Stanford became triathlon world champion after overcoming a 15-second penalty to win the Grand Final on Saturday.
Third in the standings ahead of the final race, Stanford was penalised for not placing her wetsuit in the box following the swim leg.
But Stanford then ran superbly, finishing in two hours one minute 33 seconds to end the series on 4,220 points.
Stanford admitted she never believed she would go one better than being crowned world under-23 champion in 2012 so quickly.
"I haven't had time to reflect on it properly," she said.
"Twelve months ago I was absolutely over the moon to win the under-23 world title, but I never ever dreamt that just one year later I'd be sitting here as senior world champ.
"I think I wrote a blog saying it would take many more years and a lot more experience and a bit of luck before I can ditch the under-23 part of my title.
"I have still got plenty of things I haven't yet done. I haven't been to a Commonwealth Games; I haven't been to an Olympics.
"So I don't think my career has run its course, but at the same time if this is the highlight of my career I'm not going to complain."
Stanford says one of her ambitions is for her and fellow Welsh triathlete Helen Jenkins, who has been out injured this season, to compete together in Glasgow next year.
"It will be an honour to stand on the start line representing Wales," she said.
"We don't get a chance to do that very often and we are a very proud country.
"It would be a very special moment."
Listen to the full Non Stanford interview on Radio Wales Sport programme on Monday (19:00-22:00).