Nathan Cleverly calls for rematch with Sergei Kovalev
Last updated on .From the section Wales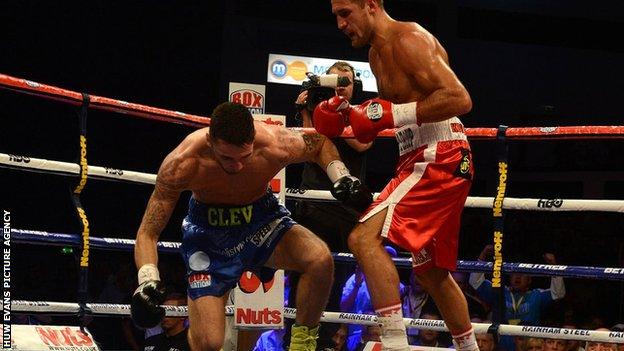 Nathan Cleverly says he wants a rematch with Sergey Kovalev.
But the Cefn Fforest fighter told BBC Radio Wales Sport he wants the chance to regain his WBO crown.
"There's only one fight I want and that's the rematch - I don't care about the money," said Cleverly. "Am I going to get it? Who knows?"
He added: "I'll try my best to get it, I'll go to America for it. It's not about the money for me - it's not about the pay-day - it's about having that chance to get my title back."
Cleverly suffered his first career defeat at the hands of the big-punching Kovalev, 30, and was also knocked down for the first time in his career.
He concedes that some observers might be surprised at his willingness to face the Russian for a second time, given the nature of his defeat.
"This guy, wow he hits hard you know," admitted Cleverly.
"I've sparred with big punchers before and sparred heavyweights and I've fought good punchers but, this guy, he does hit freakishly hard. But I would still love the opportunity again.
"Everything was going to plan in that fight, and [then] I got caught.
"And when I got caught it spiralled downhill then because I couldn't recover. But hopefully if we get the rematch I'll avoid getting caught with the big punch and maybe take him into my territory.
"If he beats me a second time I'll hold my hands up and congratulate him, but the chance to fight for my world title again - that's what I want next."