Wales coach Iestyn Harris targets World Cup quarter-final place
Last updated on .From the section Wales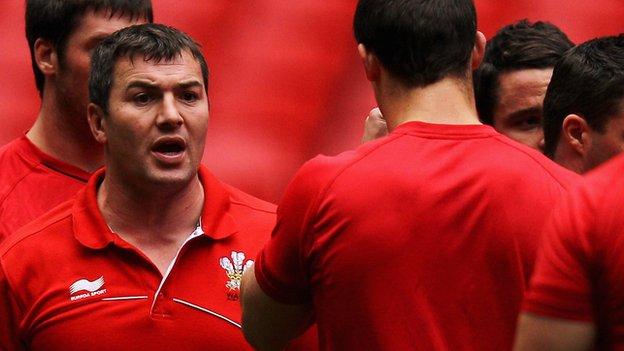 Wales coach Iestyn Harris says success at the Rugby League World Cup will be reaching the last eight.
Harris's side face Italy in their opening game in Cardiff on 26 October.
Wales are likely to face England or Australia in the quarter-final should they win Group D.
"If we've hit the quarter-finals and we're in a position to take one of them two giants on then ultimately that will have been a successful World Cup for us," Harris said.
"Obviously you look how strong the like of England, New Zealand [and] Australia are.
"To actually say we are going to go out and win, obviously that's everybody's holy grail and end game.
"But it is going to be a daunting task to do that and I think what we've always spoken about is improvement as a group.
"And if we improve as a group from where we've been over the last three or four years, that will be a quarter-final place, which possibly will be against England or Australia.
"And then it comes down to 80 minutes of rugby league."
Harris was a key member of the Wales side which reached the semi-finals of the World Cup in 1995, losing 25-10 against England at Old Trafford.
Wales, with Harris as captain, also reached the quarter-finals in 2000, losing to Australia but failed to qualify for the 2008 tournament.
Harris was appointed Wales head coach in 2009 and he led them to the European Nations Cup in 2010, which secured a place in the following year's Four Nations.
They lost to New Zealand, England and Australia in the competition and Harris hopes the World Cup can be the springboard for future success.
"We want to be as consistent as we can for us as a nation, for the players themselves, and we don't want to be a flash in the pan every World Cup," Harris added.
"All of a sudden you're a different kettle of fish than what you were in the non-World Cup years because all your players have left and are back in Australia and they don't want to play unless it's a World Cup.
"We want that little bit more consistency about it.
"We want to be challenging for international honours, not now, not in four years, but for the next 10. For the next 20 years we want to get stronger and stronger.
"And to do that you've got to have that consistency. You've got to have that youth structure and everybody within Wales Rugby League has bought into that.
"So we're hopeful that we're going to have a successful World Cup this time."