Rugby League World Cup 2013: Clive Griffiths assesses Wales
Last updated on .From the section Wales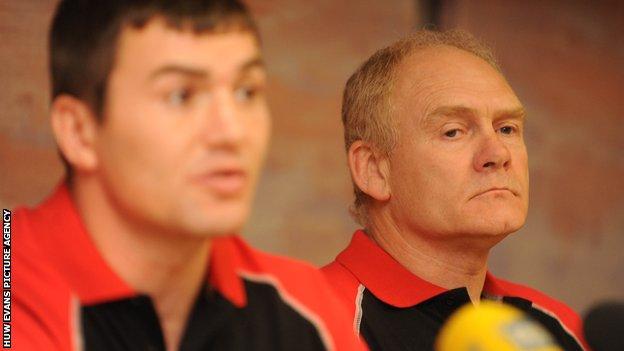 Clive Griffiths is a name synonymous with Welsh rugby league. The former St Helens player was in charge of Wales for two memorable World Cup campaigns in 1995 and 2000.
Wales lost 25-10 to England in that 1995 semi-final and a side captained by Iestyn Harris gave Australia an almighty scare before losing 46-22 at the same stage five years later.
Griffiths has also spent a spell as assistant to current head coach Harris, who has been in charge of the national side since 2009.
Here, North Wales Crusaders head coach Griffiths looks forward to Wales' fourth World Cup campaign, which begins against Italy at the Millennium Stadium on Saturday.
The coach
"Iestyn's still pretty young as a coach. He's very cool, as he was as a player. I get a bit more animated than Iestyn but we're all different in styles.
"He knows the game inside-out and all he needs now is the coaching experience to go with it and the man-management skills which develop as you go along.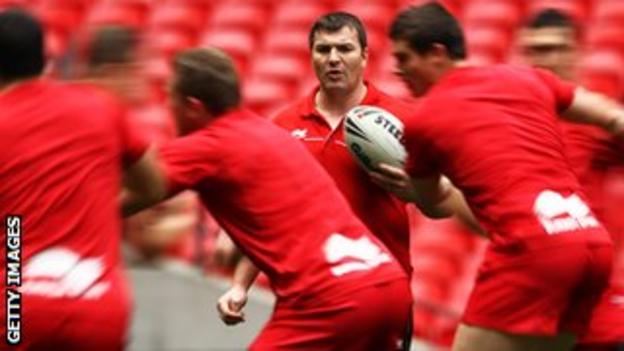 "Iestyn is learning the hard way. The Crusaders was a tough baptism for him in their final season in Super League. I think he's done the right thing going to assist at Wigan Warriors. He couldn't be at a better rugby league club than Wigan and with time he will be one of the top coaches.
"He's got a great chap assisting him in Lee Briers. They're two half-backs who know how the game should be played.
"They've been in the fast lane of international rugby and Super League rugby for many a year so there are no better people to put forward that experience and the way of playing the game.
"They gave me everything as players and I've got nothing but admiration for them. I've got no doubt these boys will go on to greater things."
The squad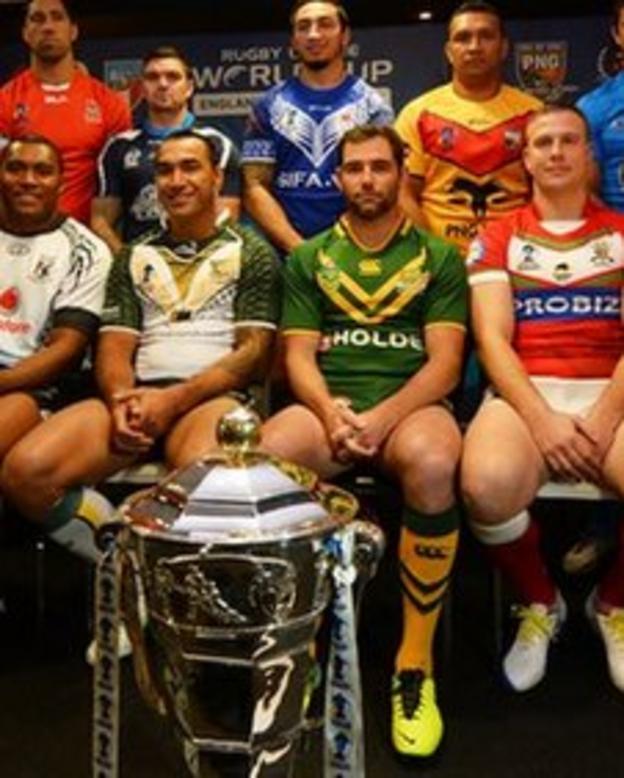 "There are more Super League players now in the Wales squad than there have been for a long time. It's similar to 1995, when we had players from throughout the game - the Warrington boys, the St Helens connection and the Widnes boys.
"Players like Ben Flower and Gil Dudson (both Wigan Warriors) plus Jordan James (Salford Red Devils) are in the fast lane of forward play down the middle. You can see how they've come on as players since they moved up into the higher level.
"They've got the foundation; they've got a good forward pack. Our half-backs, number nine and hooker need to guide us around the pitch and make sure everyone's going forward in the right manner.
"We've got to keep everyone healthy. People are bound to get injured but we just want to try and get the best team out we possibly can for those games.
"I know how fantastic it is to be involved [in the World Cup] and you've got to transfer that to the players. It will be special for them."
Group opponents
"Italy will be absolutely buoyed by their 15-14 warm-up match win against England. I couldn't believe the result.
"It's the best thing that could have happened to Wales because this could have happened to Wales in our first game.
"Everybody now will be totally on their guard and ready for an onslaught from Italy and we'll have a bit more respect for them.
"It's going to be a mouth-watering encounter. I still think Wales will win it, but I don't think it's going to be as easy as everyone thought initially.
"I don't know how long Italy have been together but they've obviously got some good players in the right positions and they seemed to have gelled pretty quickly.
"I think we'll beat the United States and the Cook Islands with something to spare. We played the Cook Islands in 2000 at the Racecourse in Wrexham on a filthy night. It was only 6-6 at half-time but we went away to win by 38-6 in the end and I think it will be a similar tale.
"They got absolutely slaughtered by a New Zealand team that were missing five or six of their probable starting line-up. The signs aren't good for the Cook Islands. It will be physical but I think Wales will come through it."
Wales' chances
"There's no reason why we can't do well. They will get to the quarter-finals, I'm pretty sure of that.
"England or Australia in the quarter-final at Wrexham is quite an incentive; the carrot's dangling for the players. You want to play the best as a player, and it's going to be interesting whoever we play in that quarter-final.
"With a bit of luck and some good decisions going their way there's no reason why we shouldn't get to the semi-final. As you saw in 2000, anything can happen and it's all on the day. It's cup-tie rugby. We can but dream."