Brent Pope replaces Gerad Adams as Cardiff Devils head coach
Last updated on .From the section Wales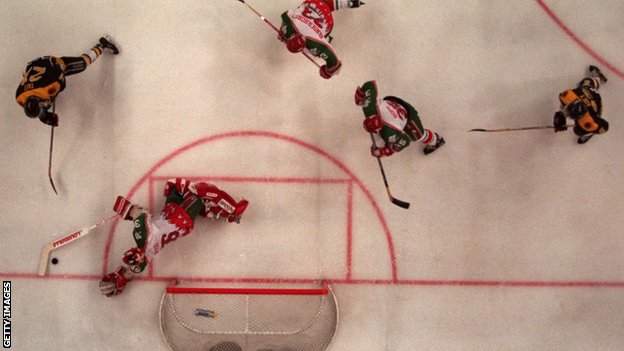 Cardiff Devils have announced that Gerad Adams will no longer coach or play for the side.
Adams, who has been with the club for nine years, will instead see out the remaining six months of his contract as head of player development, while bench coach Neil Francis has resigned.
Managing director Brent Pope will become caretaker coach, supported by Mark Cuddihy as bench coach.
"The club is hugely ambitious and the time for change has come," Pope said.
Pope added: "We draw a line and move forward; no more changes, no more controversy or uncertainty.
"We need to just concentrate on performing well for 60 minutes and to our potential and the rest will take care of itself."
The Devils announced on 15 October that player-coach Adams had retired from playing to concentrate on coaching, but within a fortnight the 35-year-old Canadian made a surprise return to the side after being named in the team to face Fife Flyers.
Devils owner Paul Ragan said: "It's been a difficult few weeks for the club and I would like to thank the fans for being patient.
"Unfortunately, we have been unable to make a statement earlier as we have been working with Gerad to meet our contractual obligations until the end of the season.
"We would also like to apologise to the fans for the confusion over Gerad returning to the ice last weekend, but the club was only adhering to the advice given to Gerad to meet his contractual obligations as 'player-coach'."
Ragan continued, "We would like to thank Neil Francis for his tremendous service to the club during the past six seasons, we have valued his knowledge and experience greatly.
"We understand his decision to not wish to work with anyone other than Gerad and we respect his decision, albeit disappointed.
"That said, often change is a good thing and with what has been a very poor start to the season for the Devils, a new dynamic was most definitely needed to get our season back on track."
The Devils are currently ninth in the 10-team Elite League table with three wins and six defeats from their 10 matches so far this season.