Track World Cup: Becky James still not used to her new status
Last updated on .From the section Wales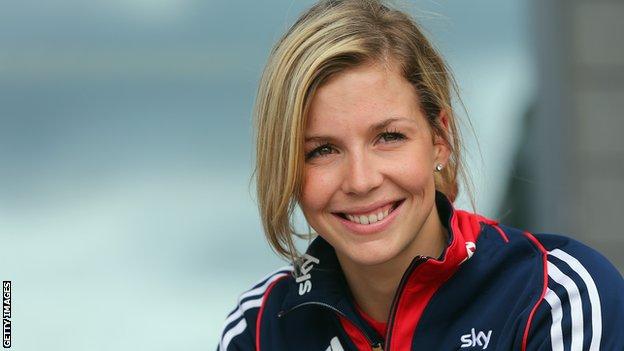 Becky James says she still does not feel like a double world champion ahead of the Track World Cup in Manchester.
She returns home with the chance to show off her two world champion rainbow jerseys on home soil between 1-3 November.
James, 21, from Abergavenny won the women's sprint and keirin world titles at February's Track Cycling World Championships in Minsk.
"It still doesn't feel real," said James.
"It all happened so fast, I had a holiday and then got straight back to training.
"You train, train, train and then start racing again and now I am in season again.
"So time has just gone so fast and you don't have time to look back and think about what you have done. You are so focused on what's ahead."
James says the defence of her titles at Cali, Colombia in 2014 is a priority but she will race against Australia's Olympic sprint champion Anna Meares in Manchester.
But James is thrilled at the prospect of wearing her rainbow jerseys, which she has won as world champion since February 2011.
"I am still the same person and it's the most incredible time for me, winning those medals," said James.
"It was one of the happiest times as well, but everything has stayed the same for me. I just wear the rainbow stripes now."
Before James returned to the UK, she became the first British woman to ride in the lucrative Japanese keirin circuit. She won all nine races she competed in.
"It was a different experience and I really enjoyed it," said James.
"The first 10 days were really hard, going into the school and learning all the rules.
"You were in school from nine to five, even though you weren't doing school work all that time, and it was really hard to fit the training in.
"When you are in the races, four days at a time and in complete lockdown, with no mobile phone or laptop, you just focus on your race each day.
"It was really enjoyable, with all the girls asking me advice and they want to learn so much from you.
"I learnt stuff from them out there and I really enjoyed the experience."