Nathan Cleverly hints at change of trainer after next fight
Last updated on .From the section Wales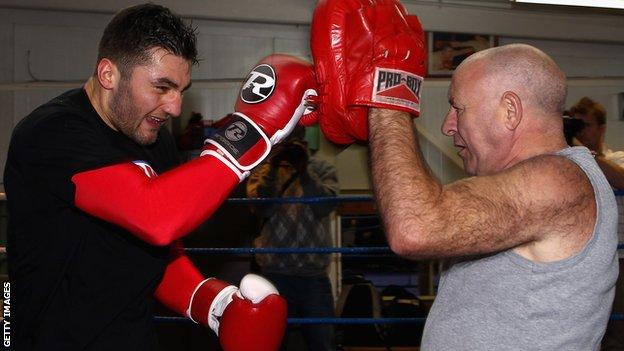 Former WBO light-heavyweight champion Nathan Cleverly has hinted he could change trainers after his next fight.
The 26-year-old is currently trained by his father, Vince, but has not ruled out moving on.
"When we have a bit more time to play with, then we'll potentially look to move on," Cleverly said.
The Cefn Fforest fighter has previously said he would possibly to join up with famous trainer Freddie Roach, but insists he will take his time before making a decision.
"The preliminary training is going to be done in Wales, where I live," Cleverly said.
"Whether I will have time before this next fight to experiment and try a few trainers in London… I doubt I'll have time for that.
"We're still working on it and still getting a plan together of who could possibly help take me to the next level.
"There's several things that you have to take into account.
"The relationship you build up with the trainer, the location, where you're happy to train and where do I want to live when I'm training.
"I've got to be comfortable with the surroundings.
"It's just not as easy as moving on, [there] are a few considerations to take into account and we're going to work on it.
"But in the meantime we're just doing the basics here in Wales and I'm pretty sure that will be enough to get me to my next fight.
The Welshman lost his WBO light-heavyweight title to unbeaten Russian Sergey Kovalev in August.
Cleverly, who had considered his future after the defeat in Cardiff, had called for a rematch but concedes that will not happen.
"I definitely would have done the rematch if I could have got that fight," Cleverly added.
"But there was no rematch clause for the fight so Kovalev didn't have to take the rematch and I didn't want to hang around.
"I've been light-heavyweight since I was 20 years of age so it was only a matter of time before naturally I got a bit bigger.
"I would have to move up at some point and now is the time I feel.
"After the last fight, I feel that was the trigger point to move on and start a new venture."