2014 Commonwealth Games: Wales name seven swimmers
Last updated on .From the section Wales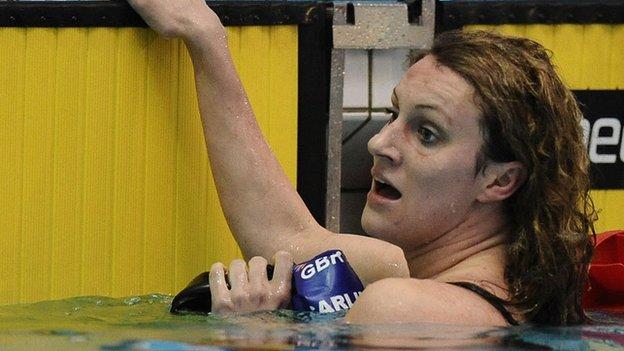 Seven swimmers have been selected for Wales's team at the Glasgow 2014 Commonwealth Games.
Among the seven picked by Commonwealth Games Wales and Swim Wales are Jazz Carlin, Jemma Lowe and Georgia Davies.
The others are Thomas Haffield, Robert Holderness, Ieuan Lloyd and Marco Loughran.
"This will be the strongest ever Welsh team that we're sending to a Commonwealth Games," claimed Swim Wales head coach Martyn Woodroffe.
"There's a good mix of experienced swimmers and some new faces that will all be looking to make an impact on the podium.
"We look forward to announcing the remaining members of the team as we get closer to Glasgow 2014."
The seven are the first athletes to be picked for the Wales Commonwealth Games team.
In 2010 Jazz Carlin became the first medallist for Wales at the Delhi Games, winning the silver in the 200m freestyle on the first day of competition.
Now she is set to compete in her third Commonwealth Games after she missed out on selection for London 2012 to then go on and make the World Championship final in 2013.
"The last 18 months have definitely been quite up and down for me, not having the opportunity to compete at the Olympics was difficult to come to terms with," she said.
"But if anything it's made me stronger and it's made me more determined to compete and prove my ability.
"I'm really looking forward to swimming for Wales next summer, the Commonwealth Games is always a great event and it's the only time we get to compete as Wales so it definitely means a lot.
"Standing on the podium in Delhi was a really proud moment for me and the goal is to be doing the same in Glasgow."
Olympians Davies, Lowe, Lloyd and Loughran will be looking to build on their London 2012 experiences.
"The London 2012 Olympics had always been a dream of mine and to be part of the British team at a home Games was the ultimate achievement," said Davies, who won a bronze in the 50m backstroke in Delhi.
"It was unreal to compete in London but I wish I had performed better.
"I always want more for myself, so I look forward to another home Games in Glasgow next year and to represent Wales at my second Commonwealth Games."
TEAMS
Jazz Carlin (Swansea, 400m and 800m freestyle)
Georgia Davies (Swansea, 50m backstroke)
Thomas Haffield (Neath, 400m individual medley)
Robert Holderness (Wrexham, 200m backstroke)
Ieuan Lloyd (Penarth, 200m individual medley)
Marco Loughran (London, 50m backstroke)
Jemma Lowe (Hartlepool, 100m and 200m butterfly)