New cruiserweight Nathan Cleverly has double title ambition
Last updated on .From the section Wales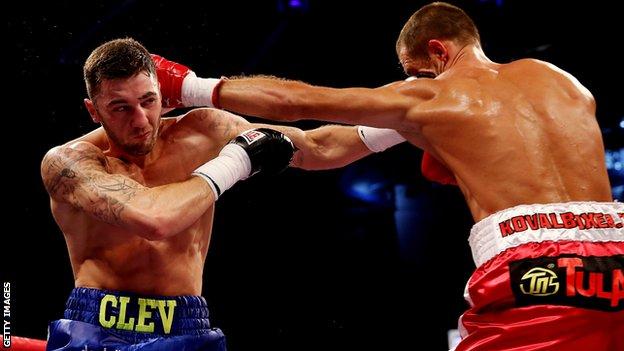 Nathan Cleverly's ambition is to be a two-weight world champion after moving up to the cruiserweight division.
But Cleverly will face Australian Daniel Ammann for the Commonwealth title at London's Copper Box Arena on 30 November.
"I'm going to give my heart and soul and do my best to get it," he said.
"I feel I can become two-weight world champion. That's my ambition.
"Moving up a weight [is a] new chapter - chapter two, so I'm looking forward the challenge. [I'm] excited by it - let's go and get that title at cruiserweight.
"It surprised a lot of people because it such a big jump from light-heavyweight - a stone and 11 pounds. It's the biggest jump in boxing.
"But I've got to do what I feel is best for me. My optimum performance I feel is in the cruiserweight division. I've got strong belief it's going to benefit my career."
Cleverly admitted his original plan was to vacate his world light-weight crown and move up to cruiserweight.
But the loss to Kovalev - his first in 27 professional fights - ended that plan.
"[Ideally I would have remained] unbeaten and moved on but winning the world title at cruiserweight will eradicate that," he added.
Ammann, from Stockton in New South Wales, has a record of 29 wins from 35 fights and is the Australian champion. The 30-year-old southpaw, nicknamed 'Doberman', is on an unbeaten eight-fight run.
"I think he was a former heavyweight so he's a big guy," added Cleverly. "But [if] I bring my skill hopefully it will be too much.
"I'm going to feel comfortable at the weight and when I feel comfortable it's going to be difficult to stop me."
Cleverly will be on the same card as Dereck Chisora, who makes the first defence of his European heavyweight title against Matteo Modugno.