Frank Warren warns Nathan Cleverly to cut out the junk food
Last updated on .From the section Wales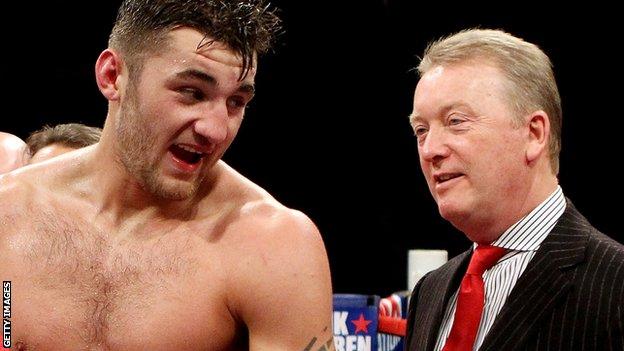 Frank Warren has warned former WBO light-heavyweight champion Nathan Cleverly to cut out the junk food.
Promoter Warren says Cleverly can be a better fighter if he improves his diet.
"He's got to cut the junk food out, live the life of an athlete and eat the proper food," Warren said.
"All that stuff catches up with you and it's just common sense.
"It's what you're putting into your tank. If you [have] a Rolls Royce you don't fill it up with two star petrol.
"Hopefully Nathan has learnt from that because it wasn't great as far as his diet was concerned.
"We've had quite a few conversations about it. I believe he can get focused … and he'll be a much better fighter for it."
Cleverly will face Australian Ammann for the Commonwealth title at London's Copper Box Arena on 30 November.
As a light-heavyweight Cleverly had to make a fight weight of 12st 7lb. A cruiserweight can weigh up 14st 4lb.
The Cefn Fforest has ambitions to be a two-weight world champion after moving up to cruiserweight.
He lost his WBO light-heavyweight title to unbeaten Russian Sergey Kovalev in Cardiff in August.
Cleverly had hinted at retirement after being stopped in four rounds by Kovalev but has decided to continue and will step up to cruiserweight.
Warren says he has every faith in the Welshman and that he can become a world champion at his new weight.
"He got beat by the better man on the night. He got very careless," Warren said of the Kovalev defeat.
"I still believe a Nathan Cleverly who would have used his brain could have won that fight.
"It wasn't to be and out of bad, hopefully comes good. It's certainly been a kick up the backside for him.
"This fight is him getting back in the saddle and it's going to be interesting to see how the loss affected him in how he approaches this fight once he's in the ring.
"I've got every faith in him and I think he's bright enough to come through this and show the world he's still a force to be reckoned with.
"Hopefully he can make his mark in the Cruiserweight division and become a double weight world champion."