Swansea City: Angel Rangel claims referee made 'clear mistake'
Last updated on .From the section Wales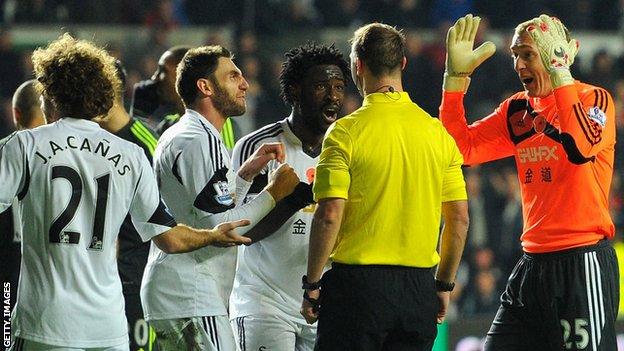 Swansea City defender Angel Rangel said the team were angry and disappointed after Charlie Adams' added-time penalty denied them victory against Stoke.
The Spaniard said referee Robert Madley made a "clear mistake" in penalising Wayne Routledge for handball.
The Swans had fought back from 2-0 down to lead 3-2 before the late spot kick.
"We did the difficult thing, scoring three goals in 45 minutes [and] I think in this case the referee made a mistake," said Rangel.
It was the third time in three weeks that Swansea have conceded equalising goals in second half added time following draws Kuban Krasnador in the Europa League.
However, Ranger said the draw with Stoke had a different feel to the two against the Russian side.
"In those two games we felt that we gave it away because we didn't show enough character," he said.
"We really didn't show the experience we should have when you are winning and there's only a few minutes left so it was probably our own fault, but I felt this wasn't.
"The team showed character and we wanted to make sure we didn't give anything away but it was out of our hands and you just have to accept it, that's football isn't it?
"I think it was a clear mistake, you know.
"[The team felt] anger, disappointment because we didn't deserve that, you know.
"I think we gave a great performance and we're so disappointed because it's been a difficult week for us.
"We've already given a few points away in the Europa League in the last minute and we wanted to make sure we could do ourselves a favour and we didn't do it but it wasn't our fault so there's only one to blame.
"First of all it wasn't a free-kick at all.
"He gave the free-kick and consequently the corner came and obviously then he [awarded] the penalty and it was a mistake, so we're disappointed."
Club captain Ashley Williams felt the draw was a blow for Swansea, who are 13th and two points above the relegation zone in the Premier League table.
"Getting the three points going into the internationals would have been nice," said Williams.
"It's what we deserved and it would have looked a bit better in the table but we did what we had to do and that's the way we have to look at it.
"It is a sickener, we obviously would have preferred the points, but those things are out of our hands."