Rugby League World Cup 2013: Phillips worried by Wales' future
Last updated on .From the section Wales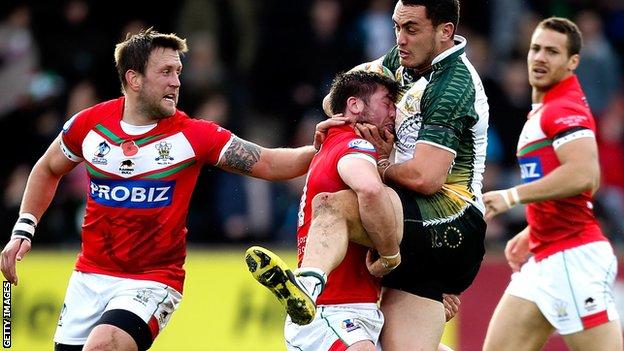 Former international Rowland Phillips admits he has concerns for rugby league in Wales after the national team's early exit from the World Cup.
Phillips, who played at the 1995 World Cup, believes grassroots development is vital.
"I do have a concern, but I know there's a lot of people working hard to ensure there's a healthy rugby league in Wales," he said.
"We've got to plan it over 10 years. We can't turn round and think we can build something up for the next World Cup. We've got a look a lot further ahead.
"After the [1995] World Cup, when we got to the semi-final, I think they missed a trick after that.
"I thought there was a light at the end of the tunnel with the Crusaders in Super League and who were starting to build and then that through financial reasons didn't fulfil its potential.
"Both those opportunities were short term opportunities but now we have to start from building it from grassroots, from youngsters and developing with a plan that's a lot longer than just to get to the next World Cup."
Wales coach Iestyn Harris is optimistic about his team's future despite three consecutive defeats which saw them fail to reach the last eight.
Phillips, who switched from union to league when he joined Warrington from Neath in 1990, was disappointed with Wales' World Cup campaign.
"I really believed they could progress out of the pool," Phillips said.
"My expectation came off the back of Iestyn Harris' positive talk in the press.
"There was a lot of talk before [that] this [was] a squad of players who had experience playing in the Super League.
"They don't have the depth of players playing at a high enough level because once you go from club to international, it's a big jump.
"We suffer without enough players playing at a high enough level."