Wales Open to provide Ryder Cup warm-up with new 2014 slot
Last updated on .From the section Wales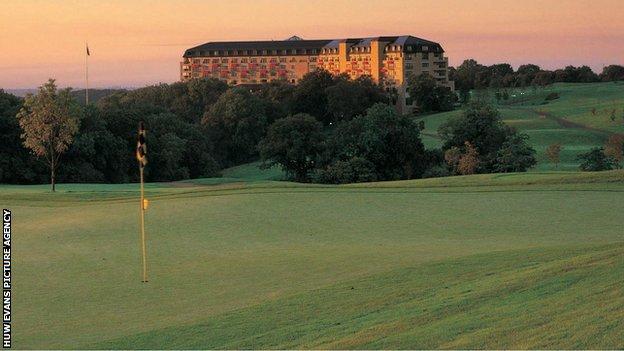 The Wales Open has been given a later date in the 2014 European Tour schedule and will be held on 18-21 September, just before next year's Ryder Cup.
This year's Wales Open, started at Celtic Manor on 29 August but it has often struggled to attract enough of the top players.
But the resort is optimistic that the new date will provide a boost.
"I think a mid-September date is a great one for the Wales Open," said Celtic Manor PR manager Paul Williams.
"This is a prime date at a time when they eyes of the world are back focusing on golf, the Ryder Cup being such an important tournament."
Hotel owner Sir Terry Matthews has bemoaned the event's previous position in the golf calendar as it clashed with other events and has once the Celtic Manor's current deal to host the golf tournament ends in 2014.
But the move to later in the calendar could prove the boost Celtic Manor - which hosted the Ryder Cup in 2010 as Europe reclaimed the trophy - has been seeking, especially as there is now no direct clash with other tournaments.
"Negotiations are ongoing as to whether we extend our contract beyond 2014... the Wales Open continues to grow in stature and we hope to see tournament golf continue at Celtic Manor," said Williams.
"It's very exciting for us to move to a new date slightly later in September.
"It will be the weekend before the Ryder Cup so obviously it will be a very special time for golf, especially with the Ryder Cup legacy we have at Celtic Manor having hosted the last home European Ryder Cup back in 2010.
"Some players will prefer to have a week off before such an important tournament but there will be other players - on both teams perhaps - who will be keen to acclimatise to conditions in the UK and have some meaningful tournament action in that week.
"The other bonus from our point of view is that there is no tournament on the schedule for the USPGA tour that week, so we might even see some members of Tom Watson's American side wanting to come over early and see some tournament action."