Mo Farah tops wanted list for Cardiff 2016 race organisers
Last updated on .From the section Wales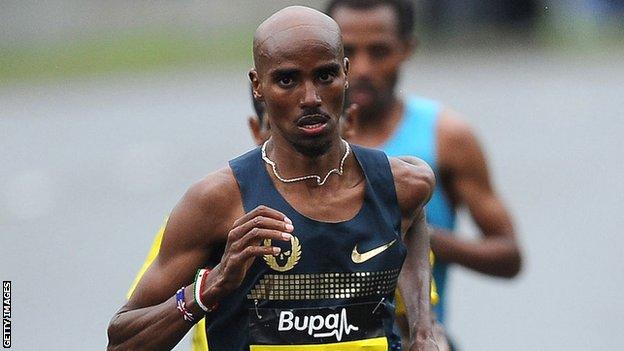 Organiser of the 2016 IAAF World Half Marathon Championships in Cardiff are hopeful of attracting Mo Farah to run in the event.
The World and Olympic 5,000m and 10,000m champion has yet to decide whether to run the marathon at the Rio Games in 2016.
But Welsh Athletics chief executive Matt Newman is hoping the Cardiff race will fit in to Farah's preparations.
"I think the chances are very good actually," said Newman.
"We were lucky to speak to his agent at the weekend and to start the process of influencing his running calendar in 2016.
"It's an Olympic year, so obviously his eyes will be on retaining his Olympic titles.
"But we think now that we can start [now] and the relationship he [Farrar] has with British Athletics will help to influence a good decision for our event in 2016."
Cardiff was named as the host for the 2016 event on 15 November, with the event scheduled to take place in March, 2016, five months ahead of the Olympics.
The announcement follows the success of the annual Cardiff half marathon, which this year was run on 14 October.
Newman thinks the race's place in the calendar could work in the organisers' favour.
"The timing could be spot on even if he is committed to running the London Marathon a month later because that would be a good stepping stone," he added.
"The only unknown is that we are talking about something that is two and a half years away and we are not sure whether he will focus on the marathon or the track.
"But we have started the engagement process with him and hopeful we can get the right result."