Dai Greene aiming to bounce back following injury-hit year
Last updated on .From the section Wales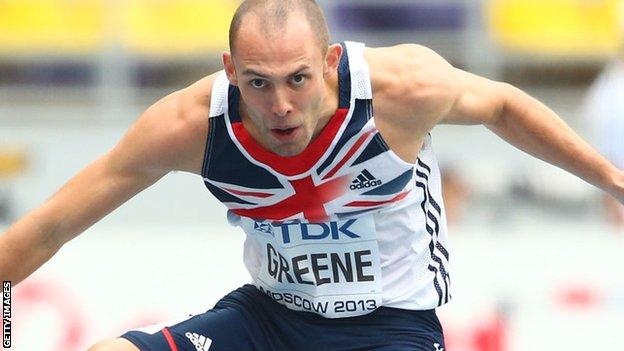 Former world 400m hurdles champion Dai Greene says he wants to make amends for two injury-wrecked seasons, in 2014.
But he failed to win a medal in the London Olympics and 2013 World Championships.
"It was a really pants year, nothing went my way really so let's just refocus on next year and there's always major championships," Greene said.
The hurdler underwent knee surgery in the winter before the London Games, and in March 2013 had an operation to repair a hernia.
The disruption caused to his training regime in both cases upset both his plans to add Olympic gold to his list of honours and defend his world title.
"There is nothing I can gain looking back in terms of positives really," he told BBC Radio Wales Sport.
"Obviously I tried to press back after my surgery and I did a really good job there, but it was scuppered by a little calf tear just after the [2013 British] trials.
"I thought I was going to be fast until that happened and then the season just fizzled out really.
"I couldn't get my fitness back in time and it was just a bit drab, I think is the best way to describe it.
"It was tough to take, obviously I didn't get the result I required in 2012 and I wanted to make amends for that and I wasn't able to. So it was very frustrating and very demoralising at the same time.
"There's not too many positives I can take, all I can do is keep on with the training and hope the problems don't arise again in the future.
"[But] there's always a major championship every year so best to focus on that and do the best you can for that and just try to forget about it."
In fact Greene has two major events to aim for in 2014 - the Commonwealth Games in Glasgow at the end of July and the European Championships in Zurich two weeks later.
The Welshman won both titles in 2010 and is setting his sights high again.
"I want to get back to where I was in 2010 and 2011 - if I'm at my best then I know I'll be competing for the golds come the Games," added Greene.
"But the standards in the European and the Commonwealths has grown in the last couple of seasons - the world champion [Jehue Gordon] is from the Commonwealth and the world bronze medallist [Emir Bekric] is a European, so the standard could be higher than before.
"I know when I'm at my best I'm just as good if not better than them - that's where I need to be, that's where I want to be and fingers crossed I can do that."