Glasgow 2014: Olympian Elena Allen leads Wales shooting squad
Last updated on .From the section Wales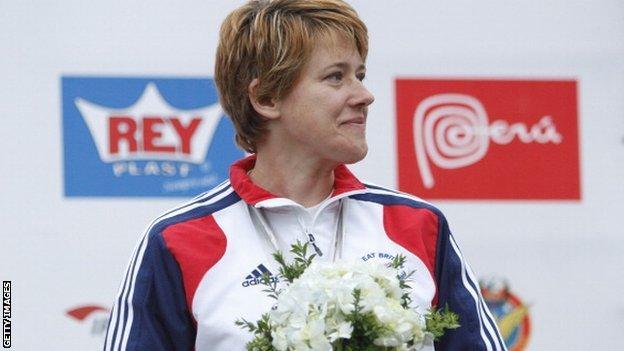 London Olympian Elena Allen will head a 14-strong Welsh shooting squad for the 2014 Commonwealth Games in Glasgow.
Allen, who also won skeet bronze in the 2013 World Championships in Lima, will be joined at the Games by husband Malcolm Allen.
The husband and wife team won gold in the Commonwealth Championships in 2010.
The team also includes David Phelps, who won Commonwealth Games gold in the men's 50m rifle prone in Melbourne in 2002.
Twin sisters Jenny and Sian Corish will compete in their third Commonwealth Games.
John Dallimore, the Wales Shooting team manager, says he expects his team to perform well in Glasgow.
"We're sending a really strong team to the Games next year - a team that works hard and are striving to fulfil their potential," said Dallimore.
"The balance of age, experience and youth in the team is just right, the first timers have some great role models to learn from and we're hopeful of having a successful Games."
TEAMS
Elena Allen (Newport, Women's Olympic Skeet)
Malcolm Allen (Abercarn, Men's Olympic Skeet)
Mike Bamsey (Surrey, 10m Air Rifle and 50m Rifle 3×40)
Jenny Corish (Caterham, 10m Air Rifle and 50m Rifle 3×20)
Sian Corish (Caterham, 50m Rifle Prone and 50m Rifle 3×20)
Katie Cowell (Wrexham, Women's Olympic Trap)
Jonathan Davies (Neath, Men's Olympic Trap)
Coral Kennerley (Aberystwyth, 10m Air Pistol and 25m Pistol)
Gareth Morris (Stanstead, Queen's Prize and Pairs)
David Phelps (Cardiff, 50m Rifle Prone)
Rhys Price (Usk, Men's Olympic Skeet)
Chris Watson (Tetbury, Queen's Prize and Pairs)
Mike Wixey (Abergavenny, Men's Olympic Trap)
Sarah Wixey (Abergavenny, Women's Olympic Trap)