World champion Non Stanford focusing on Commonwealth bid
Last updated on .From the section Wales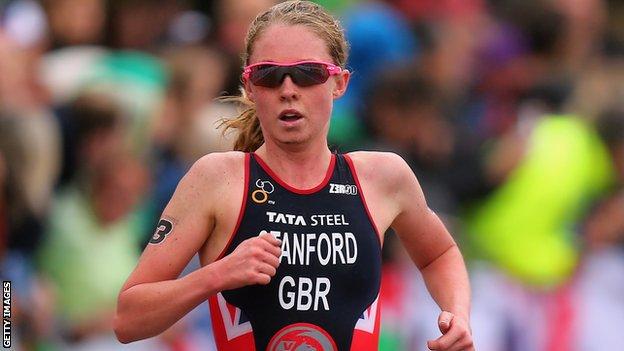 World triathlon champion Non Stanford says her focus is on the 2014 Commonwealth Games in Glasgow.
She hopes both she and fellow Welsh athlete Helen Jenkins can win medals in Glasgow in July.
"The priority is definitely the Commonwealth Games," Stanford said.
"It only comes around once every four years and I've never represented Wales at a triathlon before.
"It will be my first major games so I'd love just to go out there and keep that flag flying for Wales. Anything else in the season comes second to that."
The ITU World Triathlon Series begins in Auckland in April, the first of eight events which conclude with the Grand Final in Edmonton.
Stanford is excited by the prospect of competing at the Commonwealth Games alongside 2008 and 2011 ITU World Champion and fellow Welsh athlete Jenkins.
Jenkins has been injured and has not raced since finishing fifth at the 2012 Olympics Games in London.
Another former ITU World Champion, 2002 winner Leanda Cave, could also line up for Wales in the triathlon in Glasgow.
Cave, who won the Ironman World Championship in 2012, was a triathlon silver medallist at the 2002 Commonwealth Games in Manchester and has previously spoken of her ambition to compete in Glasgow.
"If I could stand on that starting line shoulder to shoulder with Helen and Leanda, that would be perfect. It would be a great, great experience," Stanford told BBC Radio Wales Sport.
"Helen especially has been incredible over the years. She's supported me and shared her experiences with me and really helped me on my triathlon journey.
"I've still got a lot to learn and I'm still learning a lot so it will be great to be on a team with her and learn more.
"Obviously the team hasn't been selected yet so we'll have to see what sort of form everyone's in at the start of the season.
"We haven't sat down and discussed whether there will be any team tactics and what the roles will be. Both me and Helen are strong athletes.
"We might come up with a plan where the race works well for both of us to give Wales the best opportunity to win a medal, whether that comes from me or Helen.
"I'm sure we could get both of us on the podium if we both have a good race."
Although triathlon is her priority, Stanford also hopes to take part in the athletics programme at Glasgow.
The 24-year-old from Swansea is considering running in the 5,000m or the 10,000m at a revamped Hampden Park.
"I would absolutely love to step into that stadium," said Stanford.
"I think that would definitely be a life experience to be a part of that athletics stadium and part of a race there.
"I've run the 10k time on the road so haven't done it yet on the track but we're talking to the athletics team about how we'd go about it and how I'd go about qualifying for that team.
"The 10k is going to be really tough because it's only two days after the team relay [and] the 5k however is a week later so that might be a better option.
"It's still very much up in the air [and] I haven't decided whether I'll be able to do it yet and the priority will of course be the triathlon."