Obituary: Triple Olympic gold-medallist Richard Meade
Last updated on .From the section Wales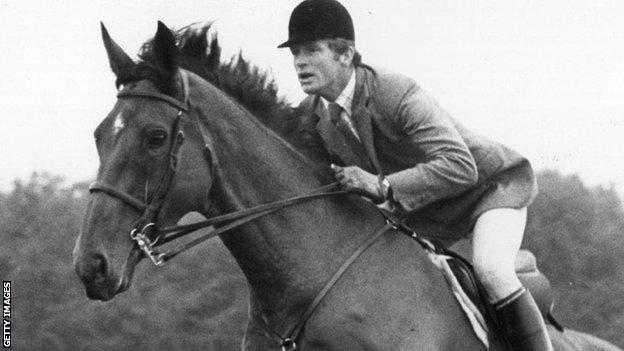 Olympic gold medal-winning three-day eventer Richard Meade has died at the age of 76.
He had been receiving cancer treatment since being diagnosed in October.
A legend in equestrian circles, Monmouth-born Meade was in the British teams that won gold at the Games in Mexico 1968 and Munich in 1972, and also won the individual gold in Munich.
Meade was a member of British teams that won the World Championship in 1970 and 1982 and three European titles.
He was also named the BBC Cymru Wales Sports Personality of the Year in 1972.
Meade was the leading light in a golden age for British three-day eventing.
In Mexico his clear round during a tropical downpour in the final show-jumping stage clinched the team title.
In Munich he and his mount, Laurieston, claimed the individual gold medal as Britain defended their team title.
His three golds made him the most successful British Olympic three-day eventer of all-time, and place him second in the list of Welsh gold medal winners behind swimmer Paulo Radmilovic, who won four between 1908 and 1920.
Hugh Thomas, chairman of British Eventing
"Richard at the height of his powers towered over the eventing world - his results far exceeded the innate ability of many of the horses he rode and he was at his very best when riding at the major events and championships. Then he gave countless time and effort to supporting the sport he loved. His passing really does feel like the end of an era."
Meade was born into a riding family, his parents were joint masters of the Curre Hounds at Itton in Monmouthshire, and started riding at the age of seven.
He was inspired to take up eventing after watching Harry Llewellyn compete at the Badminton three-day event.
Fellow Welshman Llewellyn was a member of the GB show-jumping team that won gold at the Helsinki Games in 1950, and he mentored Meade in his early career.
"He lent me a horse when I was 15, on which I won the Pony Club Boys' Championships. He gave me encouragement throughout my career," said Meade.
Meade made his Olympic debut in Tokyo in 1964, finishing eighth in the individual event - the best-placed of the British riders.
Gold medal success followed in 1968, with Meade having vivid memories of the final show-jumping round with which he clinched the title.
"A violent tropical storm nearly caused abandonment of the competition," he said.
"Four-and-a-half inches of rain fell in just over an hour. However, we survived it all, and that made winning all the more exciting."
His sporting success was not confined to the Olympics. Meade was a member of the British teams that won the European Championship in 1967, 1969 and 1981 and World Championship in 1970 and 1982.
As an individual he won at Badminton in 1970 and 1982 and the Burghley horse trial in 1964.
In 1972 Meade was named BBC Cymru Wales Sports Personality of the year, having previously been awarded the British Equestrian Federation's medal of honour.
He later served as president of the BEF and was chairman of the British Horse Society.
His son, Harry, won a World Championship team silver medal in 2014.