Commonwealth Games: Wales' Jazz Carlin plans Australia training
Last updated on .From the section Wales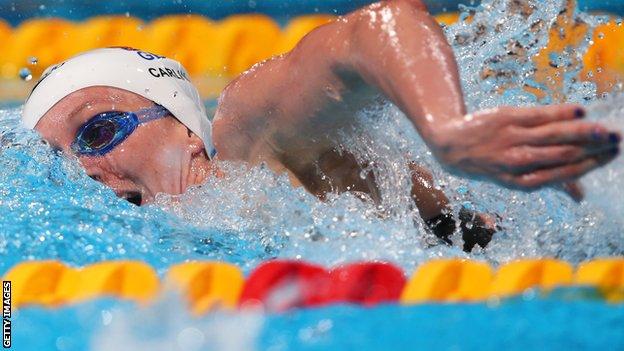 Welsh swimmer Jazz Carlin does not believe her coach's decision to move to Australia will affect her preparations for this summer's Commonwealth Games.
Carlin, 23, says she will spend time training in Perth as well as Swansea.
"It's going to be something different but I don't feel like it's going to affect my training in any way," she said.
American McAllister has been based at the Wales National Pool in Swansea and has coached Carlin as well as British Olympic swimmers Jemma Lowe and Georgia Davies.
McAllister, who previously coached United States superstar Janet Evans, said it had been a "very hard decision" to leave Wales.
Carlin said McAllister's move to Australia was as a blow although she was confident it would not disrupt her preparations for this summer's Commonwealth Games in Glasgow.
"Obviously it hit me hard. I was really devastated when I found out but obviously it's a great opportunity for him and a different lifestyle," Carlin said.
"But my focus is the Commonwealth Games so I've just got to make sure my training doesn't change and that I resume training with him for as much as I can.
"I plan to go out to Australia in March for a month so then I'll really be able to check out the place, see the pool and get a feel for it over there.
"Then I will be coming back for the British Championships which are in April and then I'll be able to see how I deal with the jetlag and the travelling.
"[Then] I'll make a decision to possibly go out again in April with the lead up to the Commonwealth Games.
"As an athlete you do travel all over the world but it tends to be only in three weeks block maximum.
"Obviously Australia is not close enough to just go for a couple of weeks here and there. You need to really go for a long period of time to get the benefits of training.
"I think it will make me work harder because I've got a different motivation and want to make my coach proud."
The announcement of McAllister's departure comes after a deal was struck to secure the future of elite-level swimming in Swansea.
Elite swimming in Swansea had only been guaranteed until the Commonwealth Games but Carlin welcomed the news a deal had been struck.
"I've been lucky enough to have great facilities and staff around for the past seven years," Carlin added.
"I think it will be great for the upcoming swimmers of Wales to have this sort of access, which can really make or break them as a swimmer.
"Hopefully it can move on to bring the Welsh swimmers to bigger and better things.
"I think it's a really exciting time for some of the young Welsh swimmers coming up."