Nathan Cleverly 'trying out' David Haye's trainer Adam Booth
Last updated on .From the section Wales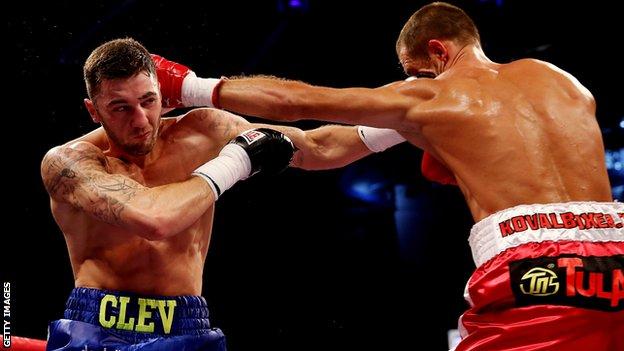 Former world light-heavyweight title holder Nathan Cleverly is training under the man who guided David Haye to world heavyweight glory.
Cleverly's latest planned fight, his first at cruiserweight, by a back problem.
His father Vince told BBC Radio Wales that Nathan is "trying things out" with Adam Booth.
The news came as ex-world dual weight champion Joe Calzaghe backed Cleverly's decision to pull out of a 1 March bout.
Ex-super middleweight and light heavyweight world champion Calzaghe said: "If he's not 100% he shouldn't fight.
"If you're coming off a defeat you want to make sure you're 100% especially when you're getting up to a new weight division."
Cleverly's withdrawal came as he continues the transition between weight divisions in which he must add around two stones of weight.
That came about after he lost his WBO light-heavyweight title to Sergey Kovalev in Cardiff last August.
His father and long-time trainer Vince says Nathan's progress has recently been overseen by Booth.
Vince added: "He's trying things out with Adam Booth at the moment up in London to see how that's working out so there's a couple of different things that's going on.
"We've been together since 11 years of age.
"Sometimes there comes a time in life where you need to try different things.
"And Nathan has got to be taken out of his comfort zone.
"Because when he was home training with me, he wasn't quite doing things correctly and he was in his comfort zone too much.
"So by going up with Adam, Adam will make sure that he gets him out of his comfort zone and gets the best out of him."
Cleverly, the ex-WBO light-heavyweight champion, had been expected to face a so-far unnamed opponent at Aintree on St David's Day, having already called off his planned debut twice.
The 26-year-old's planned debut at the new weight against Daniel Ammann in November was put off as Cleverly had a back injury.
Another back problem ended a fight with Illunga Makubu, scheduled for 1 February in Monaco.