Sochi 2014: Wales' Bruce Tasker in Team GB for Winter Olympics
Last updated on .From the section Wales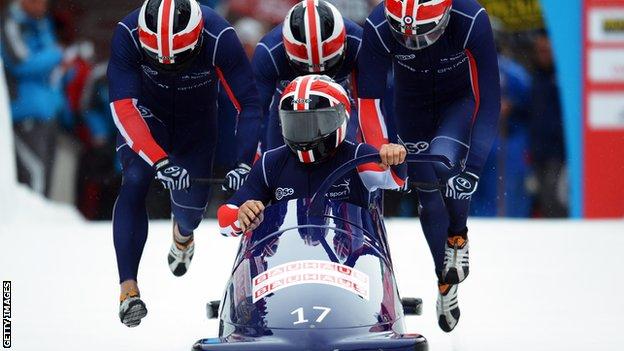 Bruce Tasker has been selected to represent Team GB at the Winter Olympics in bobsleigh.
The 26-year-old, who comes from Manorbier in Pembrokeshire, will be the brakeman for the lead four-man bobsleigh team at Sochi in Russia.
Britain will have two four-man teams competing, after the GB2 team also made the Olympic qualification standard at last week's World Cup event in Igls.
"It's exhilarating, it's so new to me, it's my first Games," Tasker said.
"Up until today we've been trying to keep the excitement to a minimum, because in selection anything can happen.
"But now we can let ourselves sort of relax and really enjoy the moment."
Britain will be to Sochi, the biggest since the 1988 Games in Calgary, with 10 of those competing in bobsleigh.
Britain are seeking their first bobsleigh Olympic medal since 1998, while the last time they struck gold was in 1964, but Tasker says confidence is high for these Games.
"We've had a few good starts this year on various different tracks and we know Sochi suits us, it's nice and steep," Tasker said.
"We're all ex-sprinters, so we can all run that sled down the hill as fast as we can.
"Our main objective is to execute all the points that we aim to in Sochi, which is to start fast, load slick and have a good drive down.
"If we get those things right then we're always in with the chance of a medal."
Tasker is expected to form the lead crew with driver John Jackson, plus Stuart Benson and Joel Fearon.
Lamin Deen will drive GB2 with Benjamin Simon, John Baines and Craig Pickering aboard.
Deen will also race with Pickering in the two-man event, while former world junior champions Paula Walker and Rebekah Wilson compete in the women's competition.