Commonwealth Games 2014: Michaela Breeze targeting medal
Last updated on .From the section Wales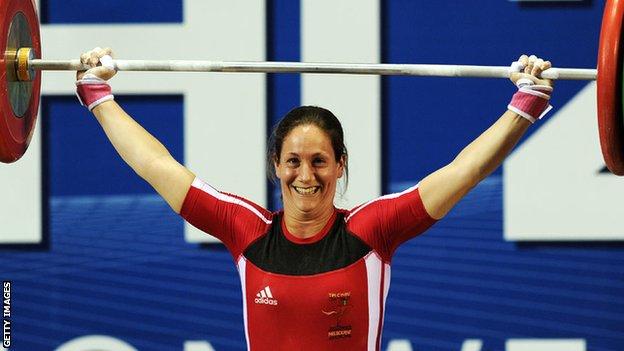 Michaela Breeze says she intends to win a medal at the Commonwealth Games - 12 years after claiming her first in Manchester.
The 34-year-old announced in December 2013 that she was coming out of retirement in a bid to compete for Wales at Glasgow.
Breeze told BBC Radio Wales she was not going to "just take part".
"If I said I was going to take part I think I'd need shooting right now," she said.
"With my reputation on the line - three medals in three Games - I'm not going there to come back empty-handed.
"I'm not going to say I'm going to come away with gold, I'm going to say I'm going to go there and do my very best and what results that produces we'll have to wait and see."
Breeze captained the Welsh team at the Games in Delhi, winning a silver medal in the 63kg category to go with the gold medals she won in Manchester and Melbourne.
The former physical education teacher now runs a weight-lifting gym in Aberdare.
She was convinced to make a comeback after lifting 45kg more than the Commonwealth qualifying standard when she was called into action to help Wales at the Celtic Championships in December.
Breeze says her training now is concentrated on rebuilding her strength after nearly four years out of serious competition.
"Every training session now is focused, it's structured and I'm trying very hard to get myself back into the best shape that I possible can be in and results at the moment are speaking for themselves.
"I'm not doing too badly [I've] just got to get my leg strength back up which is always a challenge when you're in your mid-30s."