Welshman Elfyn Evans to build on Monte Carlo debut
Last updated on .From the section Wales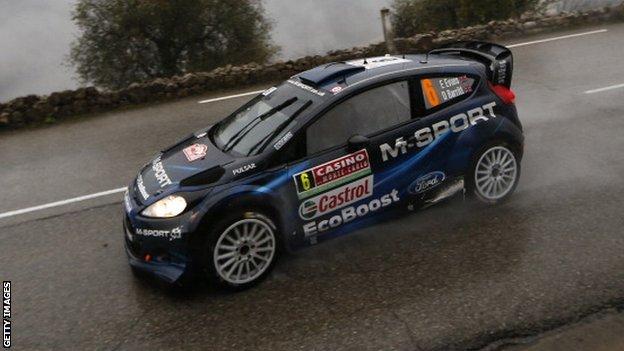 Elfyn Evans says he is hoping to build on his impressive debut when he competes in the second round of the World Rally Championship in Sweden.
Evans, 25, is the first Welshman to have a full season's works drive in the WRC.
The Dolgellau-based driver finished sixth on his debut drive in the opening WRC rally in Monte Carlo.
"We were happy with Monte Carlo and we were there to finish the event," said Evans.
"We managed to do that without any drama and the result at the end was good.
"Again it's a new experience and a very strong entry here, and we will not be looking at the results to begin with but we will be looking for progress."
Evans, the son of former British rallying champion Gwyndaf Evans, is partnering Mikko Hirvonen in an M-Sport Ford Fiesta World Rally Car in every round of this year's WRC.
Evans' performance and finish in his debut race was comparable with those of other British debutants in the sport over the years.
Richard Burns managed fifth on his Monte Carlo debut, while Colin McRae finished 10th on his debut and both of them went on to become world champions.
Evans competes at Rally Sweden, which starts on Wednesday night with a short Superspecial stage in Karlstad, in the second round of the 2014 FIA World Rally Championship.
It promises to be another step into the unknown for the Welshman at the only all snow-and-ice rally in the series, with cars running on fully studded tyres to cut through the ice, snow and frozen gravel.
"I think it is going to be, all in all, a rather brutal learning experience, but I am looking forward to it." said Evans.
"We had a good test, two quite different tests, but even then the conditions have a an effect on the level of grip available
"On certain types of road there is massive amounts of grip available and as much if not more than gravel.
"At other times there is very little grip. It is very difficult."