Cheltenham 2014: Twiston-Davies on Big Buck's' bid for record win
By Aly Rowell
BBC Wales Sport
Last updated on .From the section Wales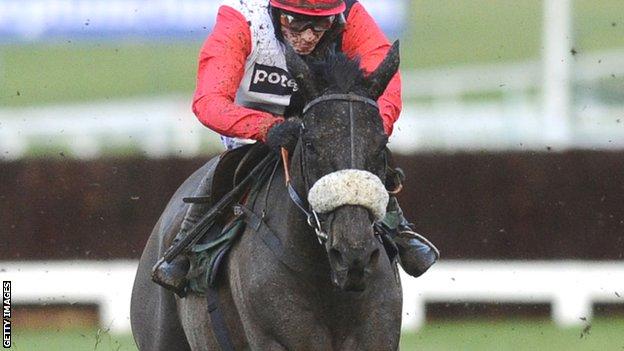 When Big Buck's first won at the Cheltenham festival in 2009, jockey Sam Twiston-Davies was 16-years-old and had had just a handful of rides as a professional.
This year, he will be aboard when the 11-year-old goes for a record fifth World Hurdle title on Thursday.
And, as he looks ahead to the big race, the Welshman can't resist a little glance back at the day his mount started his impressive festival-winning run.
"I remember the race very well," said Twiston-Davies, now a relative veteran at the age of 21.
"French runner Kasbar Bliss was odds-on favourite and my father had Petitfour in the race."
It has been a rapid rise from novice to piloting one of the nation's favourite horses in the biggest jump festival of the season. But Twiston-Davies has racing in the blood.
The son of trainer Nigel Twiston-Davies, Crickhowell-raised Sam was successful in pony racing before starting in point-to-points in the 2008/09 season.
He was still studying for his AS-level exams at school in Gloucestershire when he had both his first Cheltenham Festival winner and first Grand National ride.
"My mother would never let me take the day off to go to Cheltenham when I was younger, but luckily I went to school locally so most of the teachers knew my father was a trainer and they'd let me nip out and listen to a race," he added.
"The teachers didn't mind as long as I told them what was going to win!'
In January 2014 he partnered Big Buck's in a race for the first time after trainer Paul Nicholls's number one jockey, Daryl Jacob, was reported to be unsure about taking the ride.
The horse was returning from over a year out injured, and finished third in the Cleeve Hurdle after leading for much of the race in which he sought a 19th consecutive win.
It was his first defeat since late 2008 when he unseated Sam Thomas in the Hennessy Gold Cup at Newbury.
It was after that incident that the Paul Nicholls horse then reverted to hurdles from steeplechases and won his next 18 races - 16 of them with Ruby Walsh in the saddle.
''Ruby was one of the first to call me after my ride on him at Cheltenham," said Twiston-Davies.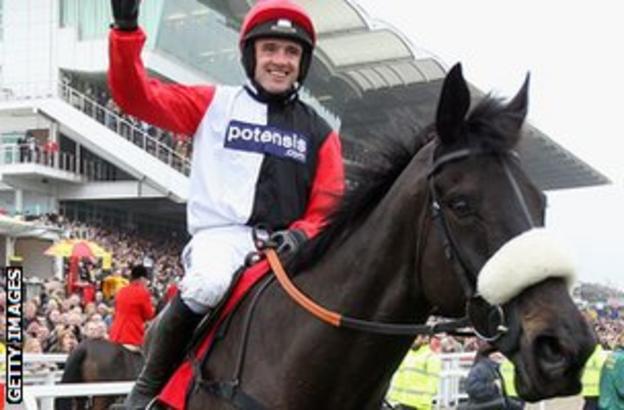 "We had a little chat about it and he said he'd thought he'd run well. I'll hopefully have a little chat to him before Thursday about how he thinks the race will work out."
The Irish jockey is unlikely to give too much away though, because he'll be aboard Big Buck's' biggest rival - the unbeaten Annie Power.
"Ruby knows Big Buck's best which is scary from my point of view," added Twiston-Davies.
"I don't know where and when he's going to make his move on Annie Power. I'd love to know. He knows Big Buck's inside-out.
"I imagine with Annie Power trying three miles for the first time, they might try and ride her quietly and see how they go.
"One thing for sure, I bet he'll be stuck to Big Buck's' tail coming down the hill."
Whatever happens, Big Buck's has made a big impression on the young Welshman.
"He relaxes, he jumps, and he's a smashing horse to ride," said Twiston-Davies.
"The signals he sent through the reins when I rode him in January were magical.
"He took me to the front so effortlessly and whilst he was doing that, everything else was off the bridle being pushed. It takes a very good horse to be able to do that."
Twiston-Davies is enjoying his best season with 89 winners heading into what will be the biggest four days of his young career.
As well as partnering Big Buck's in the Ladbrokes World Hurdle, he was aboard The New One on Tuesday, for his father, as it finished third in the Stan James Champion Hurdle.

Quite a week for Twiston-Davies, who is being tipped as a future champion jockey.
In addition to his rising success rate, his easy-going manner and endearing turn of phrase have made him a favourite amongst the racing press.
But with media attention comes pressure.
"Mr [owner Andy] Stewart and Mr Nicholls have been very kind in letting me ride the horse.
"I don't want to let them down. I want to do the very best I can, and I will. I'm in a very lucky position that I've got this pressure of riding Big Buck's.
"It's pressure I really want. At the end of the day I'll do as I'm told, go out there and hopefully it'll work out.
"I want to ride the very best I can, and I know I will.''