Welshman Jamie Donaldson sets pace in hunt for Ryder Cup place
Last updated on .From the section Wales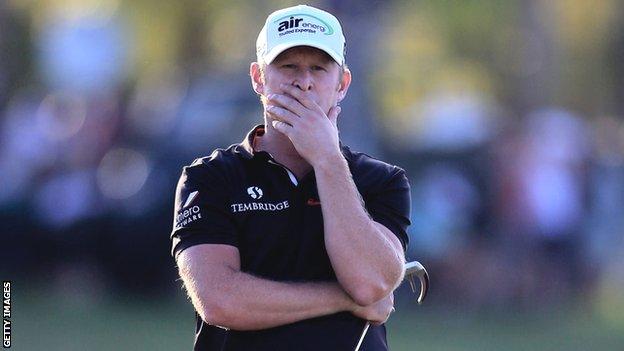 Jamie Donaldson is enjoying his American adventure after securing his 2015 PGA tour card with a second place in the WGC Cadillac Championship in Doral.
The 38-year-old Welshman finished one shot behind winner Patrick Reed, picking up $763,000 in prize money.
"It's nice to prove myself out here in America," said Donaldson.
The performance also establishes him as an early leader in European golf's Race to Dubai and Ryder Cup qualification.
Europe defend their title against the USA in Gleneagles in September, with Donaldson yet to take part in the bi-annual showpiece.
But Ryder Cup qualification is not top of his priorities.
He says his aim is to establish himself on the USPGA tour and prove himself in American conditions.
"It takes a little while. I've been playing different golf courses in different conditions," he told BBC Radio Wales Sport.
"The course set-ups and the grasses are different, so it takes a while to get used to the courses out here and it's slowly starting to click."
It's a far cry from 2008 when Donaldson was playing on the European second-tier challenge tour after losing his tour card the previous year.
Donaldson managed to regain his tour card and every year since 2008 has seen his world ranking improve to career high of 27th following his result in Doral.
His rise into the top 30 was kick-started with a win at the Irish Open in 2012.
"Three years ago I was nowhere near this level," he admitted.
"After the win in Ireland I've kicked on over the past couple of years I suppose.
"Since 2008 my rankings world and European have increased every year since losing the card really, so it's funny.
"That's six years ago now so it's taken a while for me to reach this point but it's been a nice road."
Donaldson admits that the Ryder Cup is "at the back of his mind", but for the time being he says he is enjoying the American tour experience and playing in consistently warm weather.
"There's a long way to go [before the Ryder Cup], there's a lot of good tournaments to play before then, but the good news is I'm playing well in the tournaments to keep the rankings - but I've got a lot of goals apart from that."
"It would be great to play in the [European Ryder Cup] team obviously, but I just need to keep playing well and just do the best I can.
"I've secured my [US] Tour card for next year, but I won't decide until the end of this year if I'm coming back."