Glasgow 2014: Georgia Davies eyeing Commonwealth medals
Last updated on .From the section Wales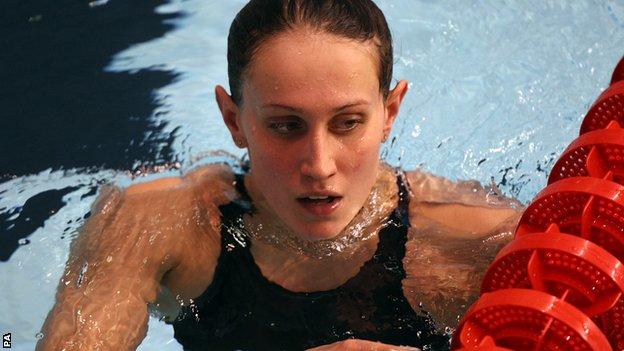 Georgia Davies is targeting two medals at this summer's Commonwealth Games in Glasgow.
Davies won gold in the 50m and the 100m backstroke at the recent Mediterranean Open in Marseille.
"I definitely want to come back with better than a bronze potentially in the 50m and then see if I can get a medal in the 100m," she said.
"The 100m is seen as more important almost, although the 50 is the fun one that I really enjoy doing.
"It would be amazing if I could medal in that too."
Since making her Commonwealth Games debut in Delhi in 2010, Davies has competed in two World Championships and the 2012 Olympic Games in London, where she finished 15th in the 100m backstroke.
Fellow Welsh swimmer Jazz Carlin swam a personal best and set a new Welsh record in finishing second in the 200m freestyle in Marseille, before winning the 400m freestyle.
Both had previously been coached by American Bud McAllister in Swansea but Davies has relocated to train in Loughborough.
"Training's going really well," Davies told BBC Radio Wales Sport.
"We've been racing quite regularly and I'm seeing that the training's going well in the racing.
"I'm quite pleased with my progress at the moment. Also training for me is really enjoyable.
"I've changed [training base], so everything I'm doing now is completely fresh and different to what I've done in the past.
"It definitely helps motivation as well leading into the Games."