Glasgow 2014: Leanda Cave targets Wales triathlon glory
Last updated on .From the section Wales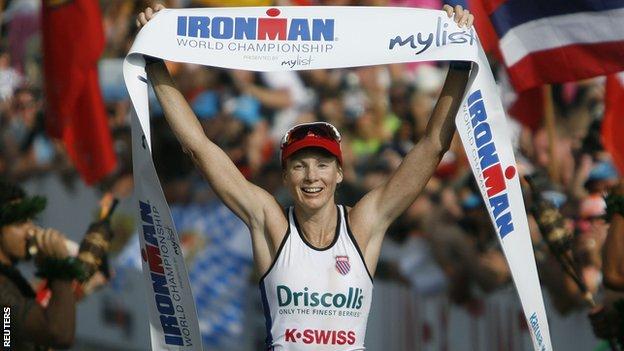 Leanda Cave believes Wales can field one of the strongest women's triathlon teams at the 2014 Commonwealth Games.
The 36-year-old won silver at the 2002 Commonwealths in Manchester but has since concentrated on longer distances, culminating in winning the 2012 Ironman and Half-Ironman World Championships.
Now Cave has set her sights on forming a potent Wales team for Glasgow along with Helen Jenkins and Non Stanford.
"I have to qualify like every other athlete," Cave said.
"I think Non and Helen in their own right have qualified for the team given their reputation over the shorter distance over the past few years, but I still have to make my own mark and I'm happy to do so.
"I don't want to be on the team unless I can be a competitor and help Helen and Non achieve their goals. I've been there and done that and want to get one of our girls on the podium - maybe both of them, that would be a wild scenario if all three of us got on!"
Jenkins is a three-time ITU World Championships winner, while Stanford took her first world title in 2013.
A triumvirate of Jenkins, Stanford and Cave would be serious medal contenders, while Cave - who was born in Lincolnshire but qualifies for Wales through her mother - is eager to compete for Wales once again.
"Wales embraced me very early on in my career and ever since then I have been racing under the Welsh flag given the opportunity," Cave said.
"I still have my properties in Swansea and I still feel like I want to give back to Wales.
"We have now some great champions that have come from Wales and I would like to say I was part of that, making people aware of triathlon and having a role-model within Wales.
"I think it would get a lot of recognition and it would definitely help encourage the youth of Wales to embrace sport and embrace triathlon, and think big and dream big.
"It's a small nation and clearly Wales is... one of the poorer nations.
"The first major triathlon I ever did was the Commonwealth Games back in 2002 and here I am trying to qualify for my third Commonwealths.
"It is going back to where I started; I've stepped up the distance in the past several years to Ironman distance and it's going way back down to a quarter of that distance.
"Most people do it the opposite way, they start short, go long and stay there... it's honestly like doing two different sports although it's swim, bike and run in each.
"That's I'm attracted to is the idea of doing something different again and it actually excites me very much to be able to start doing something I used to do. I've actually been missing it.
"As you get older you lose a bit of speed and that's going to be my biggest hurdle, I guess teaching my body to go fast again and really push it to the limits where I used to be."