Nathan Cleverly should stay at light-heavyweight, says Calzaghe
Last updated on .From the section Wales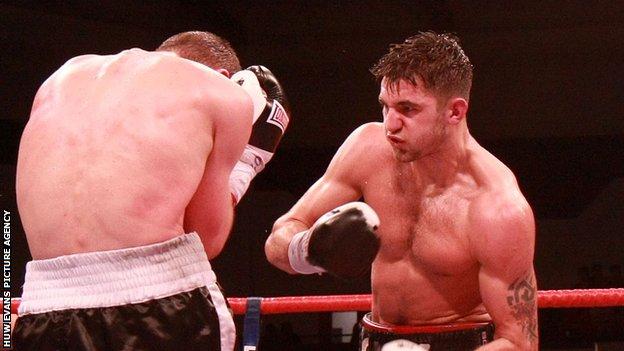 Enzo Calzaghe believes Nathan Cleverly is making a mistake moving up a weight.
The Welshman will be fighting at cruiserweight, but Calzaghe - who trained two world champions - doubts he has the power required.
"If he was with me and asked if he should turn cruiserweight I would probably have said no," he said.
"How many people has he knocked out as a light-heavyweight - two? He probably hasn't got the killer punch."
Calzaghe trained his son Joe throughout his unbeaten 46-fight career, and guided Enzo Maccarinelli to world and European titles at cruiserweight.
Cleverly has not fought since being stopped in four rounds by Sergey Kovalev.
That loss is the only blemish on Cleverly's 27-fight professional career, but the Welshman has been struggling to resolve his future since.
Initial talk of retirement was followed by a move up to cruiserweight, two changes of trainer and withdrawal from three proposed fights.
However, Cleverly will return as a cruiserweight in Cardiff next May on the "Second Coming" event being promoted by Eddie Hearn's Matchroom organisation.
But Calzaghe believes Cleverly has the class to make a mark a mark again in the light-heavyweight division.
"I don't know why he didn't give himself another chance at light-heavyweight to fulfil his potential, because he can get back to that higher level," he said.
"There's no problem, he can be at the top level again."
Another concern for Calzaghe is whether Cleverly's frame can handle the move from the 12st 7lb limit at light-heavyweight to 14st 4lb for cruiserweight.
With weigh-ins for fights taking place 24 hours beforehand, boxers are usually heavier by the time the fights start.
"Bear in mind most cruiserweights are coming down from heavyweight," said Calzaghe.
"So he'll be competing with a guy probably who is a heavyweight originally - so how will he cope with these heavyweights?
"On the fight night they'll probably be 15 stone and a half, even 16 stones. It's a lot to ask."