Nathan Cleverly: Rematch with Tony Bellew is 'inevitable'
Last updated on .From the section Wales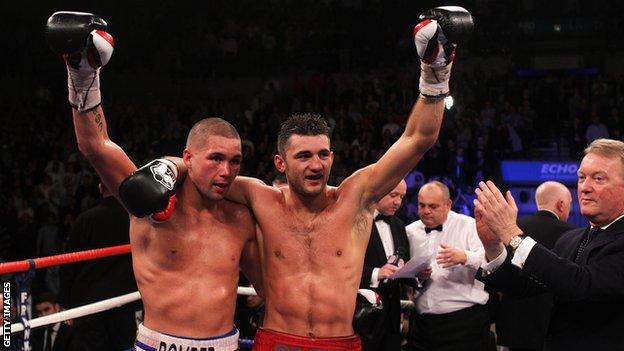 Welsh boxer Nathan Cleverly says a rematch with Liverpool's Tony Bellew is "inevitable".
The pair met in a WBO world light-heavyweight title fight in Liverpool in 2011 when Cleverly won on points to retain his title.
Cleverly, 27, has since lost his crown and is moving up to cruiserweight, but believes he and Bellew's paths will cross again.
"It's inevitable. We're on a collision course no doubt," Cleverly said.
"He still hasn't got over the first defeat and it's a chance for redemption."
Cleverly has been out of the ring since losing his title to Sergey Kovalev in Cardiff last August, and has seen his comeback delayed three times.
But the Cefn Forest fighter is due to make his comeback in May on a bill promoted by Eddie Hearn's Matchroom organisation.
Hearn said in January 2014 that he would like to promote a re-match between Cleverly and the 31-year-old Bellew, and believes the sooner it happens, the better.
"I'm saying let's do it over the next six to eight months because now is the time," Cleverly said.
Bellew has made two challenges for the world light-heavyweight crown.
In addition to his 2011 defeat by Cleverly, Bellew was stopped in the sixth round by Canada's Adonis Stevenson in their WBC title fight in Quebec City in December.
Cleverly says he is prepared to face Bellew again, although he feels he does not have to take the fight.
"To be honest I don't really have to give him that chance," said the Welshman.
"I could walk away with my 1-0 victory and be content, but I'm a fighter.
"I'm prepared to [have a] rematch. I'm sure it will be a great fight like the first and I'm looking forward to making it 2-0."