Tour of Britain: Julian Winn welcomes Tumble stage finish
Last updated on .From the section Wales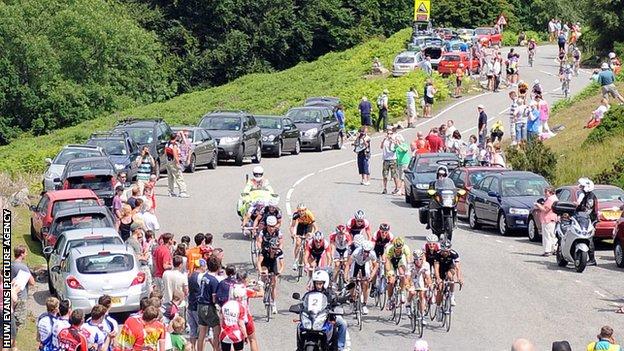 Former professional cyclist Julian Winn has welcomed Tour of Britain organisers' decision to include a climb of The Tumble above Abergavenny in the 2014 race.
Riders will face the daunting six-kilometre climb at the end of stage three on Tuesday, 9 September.
Abergavenny resident Winn was King of the Mountain in the 2005 Tour and said cyclists will know what to expect.
"It's pretty well-known in cycling and it's pretty brutal," Winn said.
"In the race I guess it's going to be taking 12-15 minutes and you've got to be ready for it."
The Tumble rises 432 metres over its six kilometre distance and will mark the end of the race's two-day visit to Wales, with stage two ending on the seafront at Llandudno the day before.
"We've got two stages in Wales which is great for us," added Winn.
"I think [the organisers] just vary the terrain really and it's great that they're including the Tumble - it's a classic climb in Wales.
"It's well used by our high-profile riders like Geraint Thomas and Luke Rowe - it's an iconic climb which is firmly on the map."
And Winn believes Team Sky rider Thomas - a double Olympic track gold medallist - has the ability to become the first Welsh rider to win the event, if it fits in with the team's schedule.
"His career appears to be developing in the right direction at the right speed," added Winn.
"He's got the makings to win it, for sure."
The Tour of Britain 2014
Stage One: Sunday 7 September, Liverpool
Stage Two: Monday 8 September, Knowsley to Llandudno
Stage Three: Tuesday 9 September, Newtown to the Tumble
Stage Four: Wednesday 10 September, Worcester to Bristol
Stage Five: Thursday 11 September, Exmouth to Exeter
Stage Six: Friday 12 September, Bath to Hemel Hempstead
Stage Seven: Saturday 13 September, Camberley to Brighton
Stage Eight a: Sunday 14 September, London individual time trial
Stage Eight b: Sunday 14 September, London circuit race