Glasgow 2014: Christian Malcolm worried over Games place
Last updated on .From the section Wales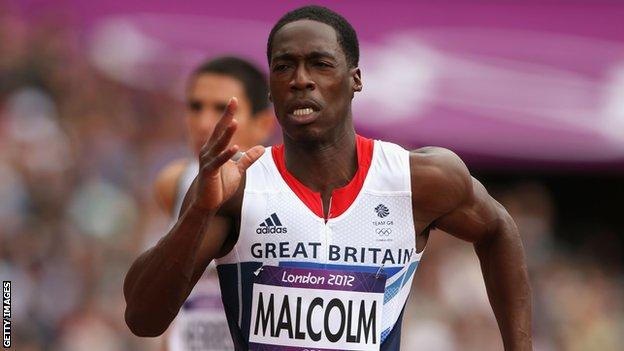 Sprinter Christian Malcolm admits he is concerned he will fail to make the qualification time for the Commonwealth Games.
Malcolm won 200m silver at the 1998 Games in Kuala Lumpur and a bronze in the same event in Delhi four years ago.
But the 34-year-old missed the whole of last season because of injury and has yet to set the required Commonwealth Games A standard.
"I've always been open and honest, I am concerned [at missing out]," he said.
"I've got to admit, it's 50/50 whether I make it but one thing's for sure I'm going to try my best to make it.
"It's a different scenario for me to be in. Usually I've got the qualifying time quite comfortably and never had to worry about qualifying for a Commonwealth Games.
"It's a bit different now trying to chase the time and to be honest I'm relishing the opportunity of trying to achieve it."
Malcolm saw last season ruined by an Achilles injury which resulted in him missing the World Championship in Moscow.
The Cardiff-born sprinter has resumed training and has targeted a return to action in May as he bids for a place at a fifth Commonwealth Games.
"I missed the whole season last year so I haven't really raced for 18 months," Malcolm told BBC Radio Wales Sport.
"I don't know how my body's going to react after missing a year of competing and then on top of that I've only been back training a couple of months now.
"At the moment I'm just trying to get into shape to try and make the team. I've got to get the qualifying time by 31 May and I've yet to race.
"I don't know what kind of shape I'll be in until I actually step foot on a track and compete.
"That will be at the beginning of May, whether that will be in Europe or in the [United] States.
"I'm going to discuss with my agent where the best place to race and we'll go from there."
Should Malcolm secure the required standard, he would be competing against Usain Bolt, who has picked the 200m as his event of the Games.
Glasgow is likely to be the final appearance in a Wales vest for the former 100m World Junior Champion and European 200m silver medallist.
Malcolm had considered quitting following the 2012 Olympics but decided to prolong his career until after the Commonwealth Games and has an ambition to captain the Welsh team.
"For me representing Wales had always meant a great deal for me," Malcolm added.
"It's the only opportunity we get to represent Wales on a global level and put Wales on the map.
"I've been unfortunate that I've missed out on Olympic medals in my career but to go to Glasgow and to captain my country and carry the flag would make up for it."