Welshman Jamie Donaldson wants improvement after Masters
Last updated on .From the section Wales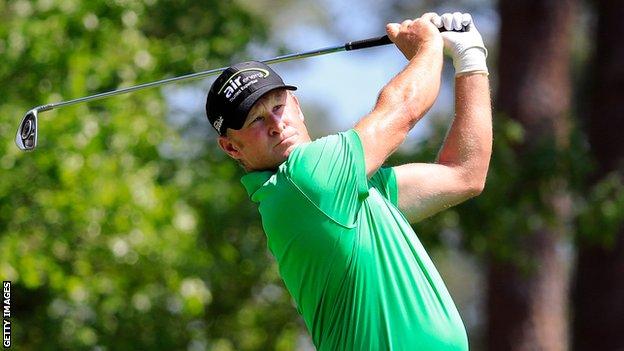 Welshman Jamie Donaldson has been tipped by USA team captain Tom Watson to impress in this year's Ryder Cup at Gleneagles.
Although flattered by Watson's comments he will not be getting carried away with representing Europe in September.
"I'm looking forward to the prospect of that [but] there's lots of tournaments to come before then," said Donaldson.
"I just need to focus on the big events [coming up] and try to play better each week."
Although he finished in the top 15 at the Masters and earned an automatic invitation to the 2014 Ryder Cup, 38-year-old Donaldson was still not totally happy with his form.
"It was nice to finish well when I wasn't playing well on what was a tough golf course. You can take a lot from that.
"Last year I missed the cut and this year finished top 15, which was a respectable finish.
"I wasn't quite on the game. I drove it terribly for three days but managed to shoot decent numbers.
"The last day was the only day I played well and shot a decent score.
"I'm learning a lot over here [in USA]."
Donaldson's Masters performance came on the back of some fine displays which have seen him reach 28 in the world.
He tied second in the Ned bank Golf Challenge in South Africa and again just missed out on a title with a second place in the WAG - Cadillac Championship in Florida.
That result gave him a temporary membership on the US PGA Tour with Donaldson now basing himself and young family in the States.