Amy Boulden has bright future, says Becky Brewerton
Last updated on .From the section Wales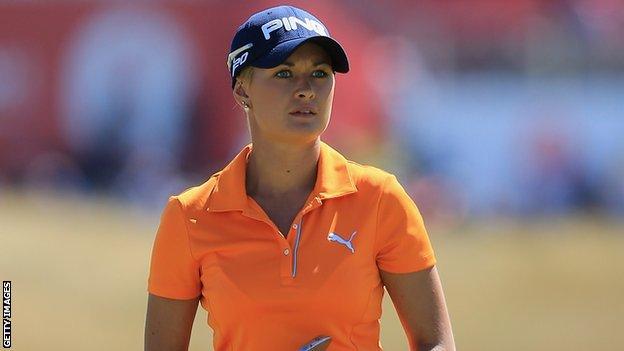 Former Solheim Cup player Becky Brewerton has predicted a bright future for fellow Welsh golfer Amy Boulden.
Brewerton, twice a winner on the Ladies European Tour, is confident Boulden has the ability to go from strength to strength.
"She's always been a great talent and I've no doubt she will show that on the professional front," Brewerton said.
"It's great for her confidence to get a win on the access series and hopefully now she can push on.
"She obviously works hard, is a very athletic player. If she can put her mind to it she can as far as she wants.
"As long as you can adapt to playing for a living and life on tour I don't see that there's anything really to stop her from becoming a great player."
Boulden beat England's Kelly Tidy and Scotland's Sally Watson to claim her first professional title, the Association Suisse de golf Open on the Ladies European Tour access series (Letas) at Gams.
She heads to the Turkey Ladies Open, a Ladies European Tour event, which starts on Friday, 9 May at the National Golf Club in Belek, Antalya.
Brewerton, who represented Europe at the Solheim Cup in 2007 and 2009, was a joint runner-up at the 2011 Turkey Ladies Open.
But the 31-year-old from Abergele admits she has endured a difficult few years.
"The last couple of years haven't been great but I've made some big strides back to where I want to be mentally," Brewerton told BBC Radio Wales Sport.
"My confidence suffered an awful lot but I feel like I'm back to being the person that I was before.
"I almost had to reach rock bottom first before I managed to make my way back up.
"I really gave myself an eye-opener last year at a tournament in Prague where I finished last in the event.
"That was the first time that had ever happened to me.
"When I left that tournament I really questioned whether I was going to continue playing because I just felt like someone had taken away all the ability I ever had to play the game.
"Once you've got as bad as you can get it can only get better from there so every step seems to be moving forward.
"Now I feel I'm as close as I have been for a long time to being where I was when I was at my peak.
"I've set my expectations high this week and I'm really looking for a good result.
"This course I've done well on before so I'm looking forward to the challenge."