Glasgow 2014: Wales can lift two medals says Michaela Breeze
By Rob Westall
BBC Sport Wales
Last updated on .From the section Wales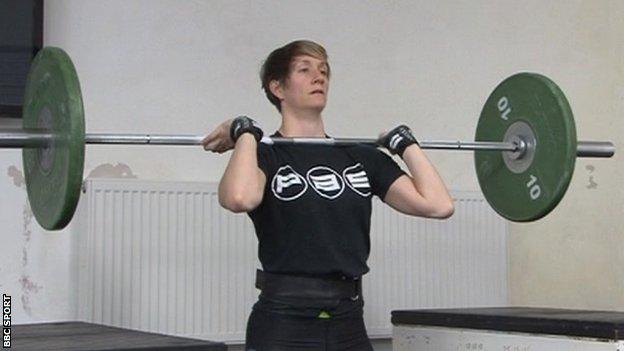 Welsh weightlifter Michaela Breeze says Wales can win at least two medals in the sport at the Commonwealth Games in July.
Breeze has hit the A standard to qualify for the Games and is in line to be named in the weightlifting team.
The 34 year-old says the sport is "on the up" in Wales and has no doubts over what the team should be aiming for in Glasgow.
"Two medals I think would be a realistic goal," said Breeze.
Fellow Welsh lifters Stephanie Owens and Christie Williams have also made the A standard for Glasgow in their categories.
Meanwhile Holyhead lifter Gareth Evans, who competed in Team GB at the 2012 London Olympics, won the 62kg category at the British Weightlifting Championships.
Breeze, who, won gold at the 2002 and 2006 Games and captained the Welsh team in Delhi four years ago, winning silver, has been impressed by Evans.
"He's managed to keep his head down and work hard since London 2012," said Breeze.
"He's in good shape and I'm hoping that he can go out there and nail personal bests.
"If he can do what we know he can do, then who knows?"
Breeze, who came out of retirement in a bid to compete in Glasgow in December, is in good form herself.
At the Welsh Senior weightlifting championships in Cardiff in March she lifted a 93kg British-record snatch.
The former physical education teacher now runs a weightlifting gym in Aberdare says the potential for future Welsh weightlifting success is there.
"I think it's on the up," said Breeze.
"We've got a massive amount of talent in Wales and the problem is the majority of it is undiscovered.
"It's my job to use my expertise post-Games when the profile has been hyped up to hopefully attract more youngsters and adults into the sport.
"Hopefully then we can look four years down the line and be even more successful."