Glasgow 2014: Christian Malcolm suffers fresh blow
Last updated on .From the section Wales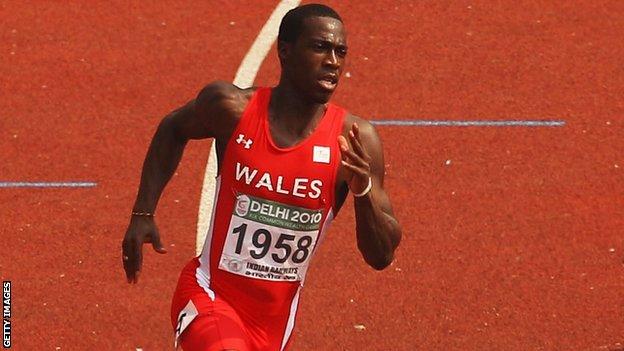 Welsh sprinter Christian Malcolm has suffered a fresh blow in his bid to qualify for the 2014 Commonwealth Games in Glasgow.
The 34-year-old missed the whole of last season because of injury and has yet to set the required Commonwealth Games A standard.
He had hoped to compete at Loughborough at the weekend, but Achilles tendon problems have forced his withdrawal.
"I've pulled out because of the little niggle I picked up," he said.
Malcolm was training in Portugal when the latest set-back occurred, leaving him unable to run in spikes.
He won 200m silver at the 1998 Games in Kuala Lumpur and a bronze in the same event in Delhi four years ago.
Malcolm saw last season ruined by an Achilles injury which resulted in him missing the World Championship in Moscow.
The Cardiff-born sprinter has until 31 May to post the Games qualifying standard and is confident of a good showing in Scotland if he can earn the right to selection.
He said: "A fit me going out there to run 20.5 [seconds]? Yeah, no problem; 20.5 is the time I usually open the season up with so it's not really difficult.
"But when you look at the whole of the bigger picture, the fact is I've missed 18 months.
"I haven't been able to run flat out in spikes.
"It's a big ask. I don't know where the body is at the moment.
"Some days I turn up for training I think I'm a world beater, the next day... I think I'm a club runner."
Malcolm will be 35 by the time the Games begin in July and while he says mental strength is not a problem, he admits the sport's demands have taken their toll on his body.
"It's tough. I wake up every morning, I've got aches and pains. It's not just the Achilles. It's the hamstrings, the lower back, it's the shoulders.
"A lot of things seem to ache and it seems to take a lot longer to recover as well, which is the frustrating thing.
"Mentally, I'm still there; mentally I've got to have that belief and I think a lot of people as they get older think they still believe they can do whatever and that's what I believe.
"And I think I can. I believe I can. I just can't do it on a regular basis like I used to."
Should Malcolm secure the required standard, he could be competing against Usain Bolt, who has picked the 200m as his event of the Games.
Glasgow is likely to be the final appearance in a Wales vest for the former 100m World Junior Champion and European 200m silver medallist.
Malcolm had considered quitting following the 2012 Olympics but decided to prolong his career until after the Commonwealth Games.