Nathan Cleverly - Tony Bellew rematch due in November
Last updated on .From the section Wales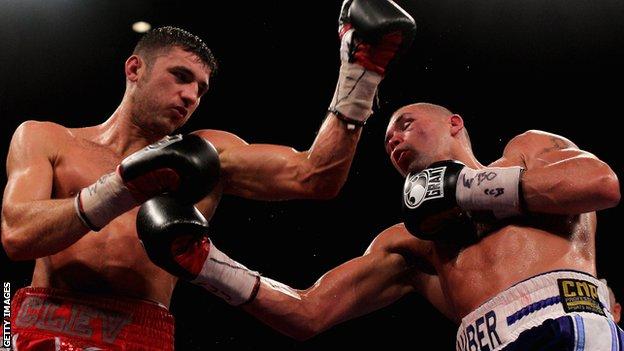 Nathan Cleverly is set for a rematch against Tony Bellew on 29 November if the pair win their next bouts in July.
His thoughts immediately turned to Bellew and he said: "The rematch could happen before the end of the year.
"The first fight was fantastic. The second fight has got the potential to be a barnstormer."
Bellew and Cleverly are expected to fight on the same card in Liverpool on 12 July and with the potential of setting up a return to the city for their rematch on 29 November.
"We are on collision course in a big way," added Cleverly. "It's a great grudge match, British rivalry and fantastic for boxing."
Cleverly said his victory over Corbin, to win the WBA Inter-Continental cruiserweight title, had also helped him to "eradicate" the painful memories of losing his title and undefeated record to Sergey Kovalev in August 2013.
"My first career defeat was a big blow," said the Cefn Forest fighter.
"I was on top of the world then all of a sudden you come crashing down.
"But sometimes you need that, a little bit of a reality check sometimes to bring you back to basics and the journey the second time around, they say, is more exciting.
"We are going for my second world title, a two-weight world champion, that's the dream."
Liverpool fighter Bellew witnessed Cleverly's cruiserweight debut and says he is out for revenge against the Welshman, as he feels he should have won their first bout.
"Me and Nathan are two different fighters," said Bellew.
"I'm a nasty guy. Nathan's a confidence guy. He's got his confidence back. Let's hope he's got his mojo back too.
"First and foremost this is a business and rivalries in this business sell. Rivalries don't come more vicious than me and your friend [Cleverly].
"There's a genuine nastiness and anger there.
"I want to hurt Nathan Cleverly I promise you that and it's not just business when you go in there, it has a personal facet to it."