Glasgow 2014: Christian Malcolm not giving up on selection
Last updated on .From the section Wales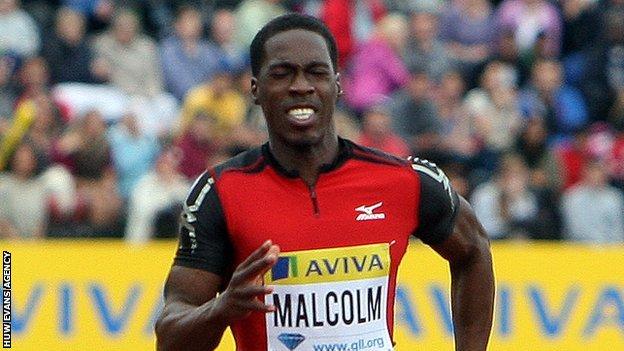 Christian Malcolm still hopes to compete for Wales at the 2014 Commonwealth Games in Glasgow despite failing to make the selection criteria.
Malcolm's hopes of competing at a fifth Games have been disrupted by injuries.
The 34-year-old admits his chances are slim but hopes Welsh selectors will allow him special dispensation.
"They've put a selection policy in place and they want to stick to that and that's all I'm up against at the moment," he said.
"I heard the head coach [Scott Simpson] could overlook certain things, but I don't think that's what they want to do.
"They want to look forward and realise when we put something down on paper we've got to stick to it no matter who it is."
The 34-year-old needed to post an A standard time of 20.50 seconds or two B efforts of 20.85secs.
He failed to reach the 200m final at the Welsh Athletics Championships in Cardiff after finishing third in the heats in a time of 21.96secs.
Newport sprinter Malcolm has been troubled by an Achilles tendon problem which saw him miss the whole of last season, including the World Championship in Moscow.
He ran 22.17 seconds in the 200m in the Riga Cup in Latvia last Thursday, his first race since 2012.
Malcolm has competed at four previous Commonwealth Games, winning 200m silver at the 1998 Games in Kuala Lumpur and a bronze in the same event in Delhi four years ago, and wants to end his career in Glasgow.
"The only thing in my career which is missing is an Olympic medal," he added.
"To go to the Commonwealth Games and possibly have the opportunity to maybe captain my country would be fantastic for me.
"There would be no better feeling but it's in their [selectors]) hands."