Christian Malcolm considering future after missing Glasgow
Last updated on .From the section Wales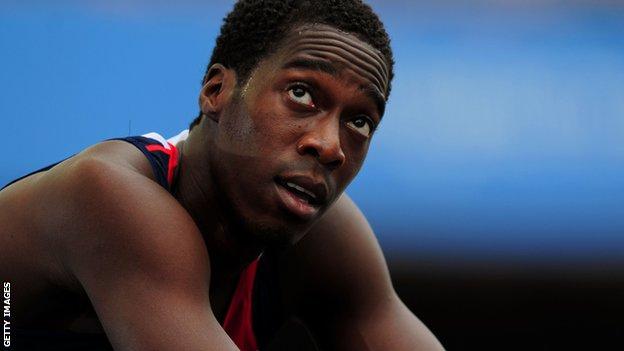 Christian Malcolm will consider his future in athletics after failing to meet the selection criteria for the 2014 Commonwealth Games in Glasgow.
The 35-year-old sprinter missed out on selection for the Commonwealth Games after failing to reach the required 200m time at the Welsh Athletics Championships in Cardiff.
"I'm very gutted," said Malcolm.
"It leaves me with a decision - do I finish now, or do I see the season through?"
Malcolm has been struggling with injuries, with an Achilles tendon problem forcing him to withdraw from a qualification event in May.
A similar problem saw him miss the majority of last season, including the World Championships in Moscow.
And the Welshman told BBC Radio Wales Sport that the European Championships in Zurich in August 2014 are not on his mind.
"To be honest with you, it was only about the Commonwealth Games, competing for Wales and that was it. That meant a lot to me," said Malcolm.
"It wasn't about the Europeans - the trials for the Europeans are in three weeks' time anyway and I know I won't be ready for that.
"If you were asking me am I going to be ready in eight weeks to compete in the Commonwealth Games, I feel I had an opportunity to do that.
"But to be ready in three weeks time to be ready for the trials for the Europeans, I'll struggle."
There had been hope that the Wales selectors could give Malcolm special dispensation to compete, despite not meeting the criteria.
But no such decision was made and the athlete is now set to consider his future, a decision fuelled by missing out on the squad for Glasgow.
"My motivation has never been for money or fun, it's been about going to major championships," said Malcolm.
"The one thing that's motivated me in my career is going to major championships... trying to win medals and making finals.
"Not having the opportunity this year is going to be very hard for me - just to continue and keep motivated.
"But at the same time I've got to look at the fact this is my last year, my last opportunity to race on the circuit... and catch up with some of the people I've met over the years.
"So I'm going to have a couple more days, I'm going to start back training on Monday and I'll go from there."