Joe Calzaghe says he struggled after retiring from boxing
Last updated on .From the section Wales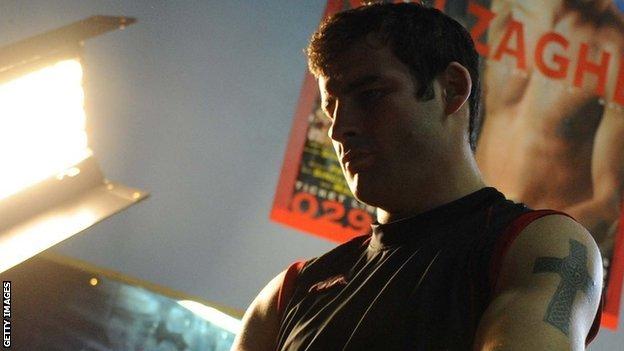 Former boxing world champion Joe Calzaghe admits he initially struggled with retirement after hanging up his gloves in February 2009.
The 42-year-old will be inducted into the International Boxing Hall of Fame in New York this weekend.
But the Newbridge boxer says he found it hard to adjust after an undefeated 46-fight career littered with titles.
"Probably the first year or two is difficult, just boredom more than anything," Calzaghe said.
"I was quite lucky to have finished on my own terms when you look at some other fighters.
"I'm not going to lie, you do get down sometimes, but I wouldn't say I was ever depressed, that's too hard a word.
"But you do become bored because all you've done in your life is fight and box.
"It's an explosive sport and there's so much emotion that goes into training and performing and that's gone, there's a void in your life.
"But you adapt, you find other things to do and just be proud you actually did that."
Calzaghe reigned as a world champion for more than 11 years, winning the WBO, WBA, WBC and IBF super-middleweight belts plus The Ring light-heavyweight title during that time.
"Being retired is one thing, but staying retired is another.
"Even when I announced my retirement I'm sure people thought I was going to come back," added Calzaghe, speaking on BBC's Radio Wales Sport.
"There's a load of reasons why I didn't, mainly my injuries - my hands were packed in and I couldn't train properly at the end of my career.
"That was 27 years of boxing and it was just time to get out and I was happy I retired when I did."
Calzaghe's achievements will be recognised in New York this weekend when he is inducted into the Hall of Fame alongside fellow greats Oscar de la Hoya and Felix Trinidad.
He has become only the fourth Welshman to be elected into the Hall, following Jimmy Wilde, Jim Driscoll and Freddie Welsh.
"I'm pretty excited; to be inducted into the Hall of Fame is a massive achievement... and to be inducted with Oscar de la Hoya and Felix Trinidad, two great fighters, is a massive honour for me and my family," Calzaghe said.
"Five years after I retired this is the ultimate accolade, to be recognised by the American press as well as the British press."
After a talented amateur career that included three consecutive ABA titles, Calzaghe began his professional career with a first-round stoppage of Paul Hanlon on 1 October, 1993, going on to win seven of his first nine bouts in round one.
Trained by his father, Enzo, he became British super-middleweight champion in 1995 before capturing his first world title in 1997, outpointing Chris Eubank to claim the WBO crown.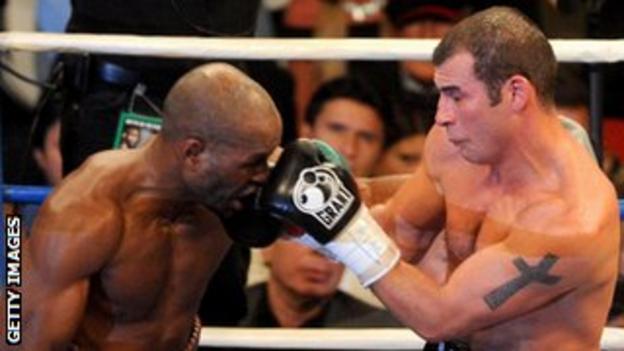 Despite suffering from several hand injuries, Calzaghe defended the title a total of 21 times, adding the IBF version to his trophy cabinet with a stunning victory over American Jeff Lacy in March 2006.
He then claimed the WBA and WBC belts with what he feels was his most satisfying fight, a unanimous points win over Denmark's Mikkel Kessler at Millennium Stadium in Cardiff on 4 November, 2007.
Calzaghe's final two fights cemented his reputation as one of Britain's greatest ever boxers.
Stepping up to light-heavyweight and fighting in America for the first time, he won a split decision against Bernard Hopkins in Las Vegas to become 'The Ring' magazine's light-heavyweight champion.
He then finished his career with a comprehensive points victory over the legendary Roy Jones Jr at New York's Madison Square Garden on 8 November, 2009.
"It was my decision to go to America at the end of my career.
"After the Kessler fight it was my decision to go to Vegas and fight Hopkins and it was the best thing I ever did," Calzaghe added.
"It means so much to go to America because the American press believe you have to go to the States to fight the best, to get their full respect.
"And I did that, not just beat one but two legends with Roy Jones as well.
"That was a good way to finish.
"Every fighter when they box wants to leave a mark in their sport or a legacy and I managed to do that beyond my wildest dreams.
"I was always confident. Even when I was an amateur I said I'd be a world champion, but if someone was to say I'd retire undefeated - that's every boxer's dream."