Glasgow 2014: Carissa Turner wants a badminton medal
Last updated on .From the section Wales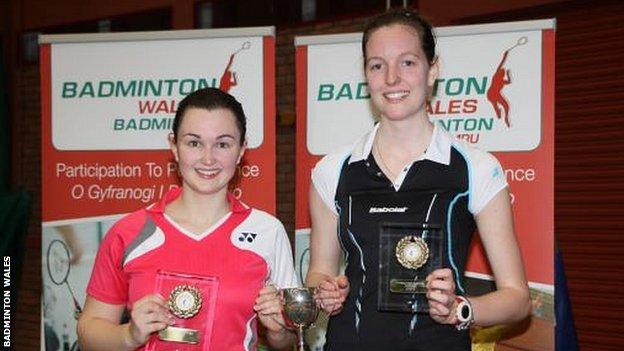 Wales badminton player Carissa Turner said she and Sarah Thomas have a good chance of winning a medal at the 2014 Commonwealth Games in Glasgow.
Turner, 24, had been struggling with injury at the beginning of the season.
But she has since recovered well to win titles at the Iceland International and Portuguese Open with 21-year-old doubles partner Sarah Thomas.
"We've got a good chance with the right draw," said Turner.
"As long as we don't get the top seeds in the first round we can definitely do it."
The pairing competed individually at the 2010 Delhi Games, where they both went out in the Round of 32.
But Turner believes that the experience of Delhi can only increase their chances.
"I think it's going to really help me," said Turner.
"I'll be able to focus a bit more on what I'm there to do, rather than be taken away by everything else going on.
"But this year I'm really looking to get on the podium and do well within the sport, rather than just gain experience."
Speaking to BBC Wales she said: "I managed to get back from injury and the first half of the season was quite shaky, so Sarah and I weren't even sure if we were going to qualify.
"But we trained hard over Christmas, only having three days off... and we pulled it out of the bag.
"We won a tournament in January and got a semi-final in another... we both retained our two titles at the National Championships in February, won a tournament in March and got another semi-final that month.
"So we've actually managed to up our level again from last year."