Glasgow 2014: Elinor Barker wants to win cycling gold medal
Last updated on .From the section Commonwealth Games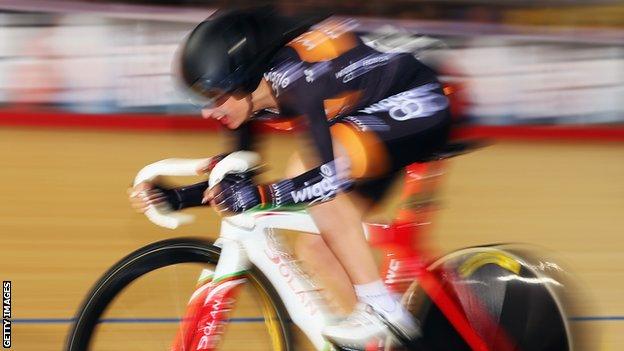 World team pursuit champion Elinor Barker has targeted a gold medal at the 2014 Commonwealth Games in Glasgow.
Barker has stated that her dream result for Glasgow would be "to come away with a gold medal".
"I'd like it to be in one of the track events; that's where my hopes are," Barker said.
includes double Olympic champion Geraint Thomas and two-time world champion Becky James.
Barker will compete in both individual and team events, with the Welsh cyclist admitting that, should she miss out on gold, she would "absolutely love" a podium finish.
"I think a lot of it is going to depend of form because there's just so many strong girls," said Barker. "A lot of the strongest teams in the whole world are going to be there.
"I think it's going to be really hard racing and I think it will depend on who's got form on the day."
She added: "I think it's just going to be an amazing experience whether I come away with medals or not."
Barker is a two-time world champion in the team pursuit and has earned individual gold at junior level, winning the women's junior time-trial at the 2012 World Road Championships.
Speaking to BBC Radio Wales Sport, the 19-year-old cyclist revealed that she had experience of riding on the track that will be used at the Commonwealth Games.
"I was lucky enough that my first senior event ever was on the Glasgow track when it first opened," said Barker. "And that was incredible, the crowd was absolutely amazing, like nothing I've ever experienced before. If it's something like that it'll be great.
"And the road-race course is actually where the British Nationals were last year, and I think it's probably one of my favourite road-race courses. It's going to force the race to be really attacking, really positive and really really interesting to watch."
The National Road Championship will be held in Abergavenny this year on 26 & 29 June, with Barker a confirmed entrant.
And the young cyclist confirmed that she saw the race as a "really good" warm-up for the Commonwealth Games.
"I think the road race especially will be good," said Barker. "It's going to be a good indicator of who's going to be doing well and who's likely to have a good race at the Commonwealth Games."