Wales tennis hopeful Farris Gosea aims for world top 20 spot
By Bruce Pope
BBC Sport Wales
Last updated on .From the section Wales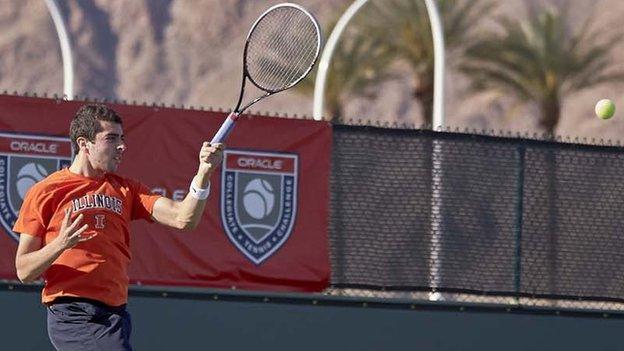 As Andy Murray opens the defence of his Wimbledon title in style, BBC Sport Wales profiles a Welshman who is making an impact on the United States college tennis circuit.
"Farris is one of the most unique individuals I've ever coached," says University of Illinois tennis coach Brad Dancer of Farris Gosea.
"He's unbelievably eccentric as a person which is great, it keeps our team full of life and always keeps us on our toes."
It's quite an introduction for the 20-year-old from Newport in south Wales, who is flourishing in his third year in America.
This season, Gosea went unbeaten in the conference his university competes in, the Big Ten, earning him the title Big Ten Athlete of the Year.
It is just the sixth time an Illinois player has claimed the prestigious award and the first since Kevin Anderson in 2007.
It bodes well that Gosea is following in his fellow tennis player's footsteps, as Anderson is now ranked 18th on the ATP World Tour.
"It's definitely one of my life goals, to try and make top 20 in the world and I've been training hard towards that this year and I'm very focused on my goals," Gosea said.
"I've improved a lot and had some good results in college, so now this summer I'll try to put some really good pro results on the board.
"Whenever I get the opportunity to play pro tournaments I take it. Last summer and (autumn) I was travelling and playing some Futures (satellite tournaments that allow players to win career titles and improve their rankings).
"I managed to get to the final round in one of them and I had two good results beating players ranked 300 or 400 in the world, so that was definitely positive for me and again this summer play more of those tournaments and see what I can do."
Welsh roots
Gosea spent his formative tennis years being coached in Newport, and then at the now-closed National Tennis Centre in Cardiff.
"I was about five or six when I first started. I was a bit overweight as a young child and my mum wanted me to play a sport, so I ended up getting into tennis!" Gosea said.
"The coach thought I could be quite good, so he... put me through some tournaments and I started to really enjoy it.
"I wanted to try and make a career out of it and decided that college was the best way to go.
"My mum definitely wanted me to get a college education and having something to fall back on is really important for me."
American dream
The opportunities for sport offered by the American college system proved too much of a lure for Farris and so he packed his bags and headed across the Atlantic.
"I think a lot of the guys use this as a transition into the pros, as college tennis is a really high level," said the left-hander.
"Most of the guys in the top 10 in the country go on to be 200 or 300 in the world, and you can see guys like Kevin Anderson and John Isner who can make top 20.
"Being able to get an education and play some great tennis at the same time, it just seemed like a no-brainer."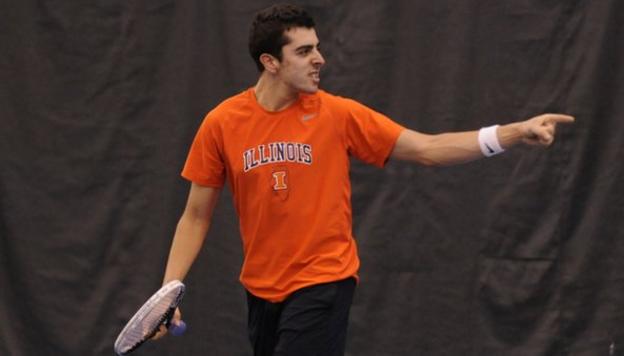 While Gosea is determined to carve out a tennis career, he has yet to decide which country he would represent if he made it to the professional ranks.
Gosea's Libyan father met his Welsh mother while studying in Britain and the youngster takes pride in his heritage.
"That's a decision to make coming up for me (whether to represent Britain or Libya). I think it just depends on who can support me the best and the situation of the tennis programmes in each country," Gosea said.
"When I was younger and involved with British tennis I'd always go to the camps at Roehampton and the National Tennis Centre, but now obviously being in college I've lost contact with that a little bit.
"But going back this summer hopefully I'll get back in contact with them and try and help me out with tournaments."
Dancer took the decision to offer Gosea a place on the Illinois programme before even meeting the young Welshman.
But the coach has no doubt that he made the right decision as he has seen Gosea go from strength to strength.
"The difference for him is that he's really gone and grown and matured so much over the last few years," Dancer added.
"Last summer I think he made a choice on the changes he wanted to make to his life, take more ownership on what type of person he was going to be, what type of leader he was going to be for our team.
"He's just done a phenomenal job of pulling himself to a higher standard and choosing a path of excellence with his life, and so I'm really, really proud of him.
"Farris has a lot of growing left that he can do with his skills and in his physical stature, which are exciting for the future, but his mental game has come a long way - and can still continue to come a long way."